August's Top 50 Comics & Graphic Novels!
Sep 08, 2013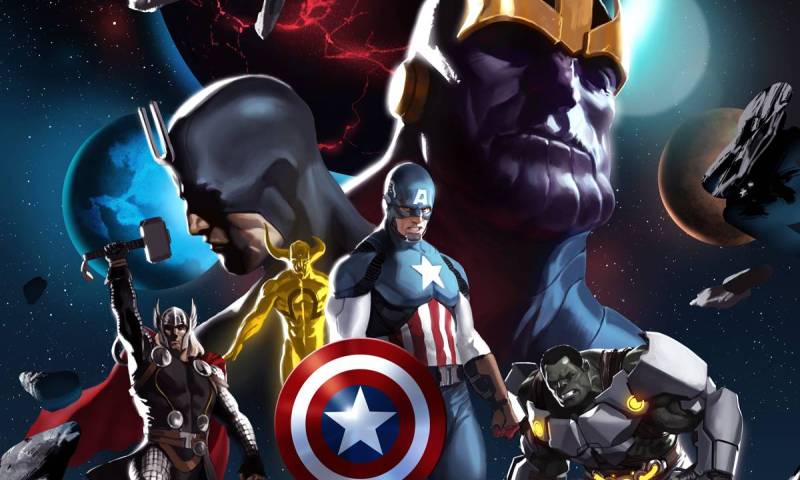 Thanos plots the conquest of Earth while the Avengers are drawn off into deep space in Jonathan Hickman and Jim Cheung's Infinity #1 from Marvel Comics, the best-selling comic book of August.
In total, Marvel Comics had five of the month's top ten best-selling comics. Dan Slott and Humberto Ramos' "Run, Goblin, Run!" storyline in Superior Spider-Man #15 and #16 ranked #7 and #8 respectively. Avengers #18, a lead-in to Infinity, ranked #9, and Brian Michael Bendis and David Lafuente's All-New X-Men #15 ranked #10.
DC Comics also had five titles in the top ten. Scott Snyder and Jim Lee's Superman Unchained #3 ranked #2. Snyder and Greg Capullo's Batman #23, the third chapter of "Zero Year," ranked #3. Justice League #23 and Justice League of America #7, part of the "Trinity War" storyline, ranked #4 and #5 respectively. Finally, Greg Pak and Jae Lee's Batman/Superman #3 ranked #6.
Among the premier publishers, Robert Kirkman's The Walking Dead #113 was Image Comics' top book for August at #12.
Brian Wood and Carlos D'anda's Star Wars #8 from Dark Horse Comics ranked #44.
Finally, IDW Publishing's My Little Pony: Friendship Is Magic #10 ranked #84.
--- Sheriff Rick Grimes wakes from a coma to discover the world in the throes of the zombie apocalypse in Robert Kirkman's The Walking Dead Volume 1: Days Gone Bye, the best-selling graphic novel of August and the basis for the top-rated program on AMC.
In total, Image Comics had four of the month's best-selling graphic novels. In addition to The Walking Dead, John Layman and Rob Guillory's Chew Volume 7: Bad Apples ranked #2, Brian K. Vaughan and Fiona Staples' Saga Volume 1 ranked #4, and Vaughan and Staples' Saga Volume 2 ranked #5.
Marvel Comics had three titles in the top ten. Rocket Raccoon: Tales from the Half World, a collection of stories of the Guardians of the Galaxy character, was their best-selling book at #3. Also in the top ten were Deadpool Volume 2: Soul Hunter at #7 and Superior Spider-Man Volume 2: Troubled Mind at #8.
IDW Publishing's top book for August was the My Little Pony Digest Volume 1 at #6.
DC Comics' top book for the month at #9 was The Flash Volume 1: Move Forward.
Rounding out the top ten, Dark Horse Comics' B.P.R.D.: Hell on Earth Volume 6: The Return of the Master ranked #10.
TOP 50 COMIC BOOKS
Based on Total Unit Sales of Products Invoiced in August 2013
TOP 50 GRAPHIC NOVELS
Based on Total Unit Sales of Products Invoiced in August 2013
| | | | | |
| --- | --- | --- | --- | --- |
| RANK | DESCRIPTION | PRICE | ITEM CODE | VENDOR |
| 1 | WALKING DEAD TP VOL 01 DAYS GONE BYE | $14.99 | NOV128157-M | IMA |
| 2 | CHEW TP VOL 07 BAD APPLES (MR) | $12.99 | JUN130436 | IMA |
| 3 | ROCKET RACCOON TP TALES FROM HALF WORLD | $7.99 | JUN130618 | MAR |
| 4 | SAGA TP VOL 01 (MR) | $9.99 | AUG120491 | IMA |
| 5 | SAGA TP VOL 02 (MR) | $14.99 | APR130443 | IMA |
| 6 | MY LITTLE PONY DIGEST TP VOL 01 | $6.99 | MAY130361 | IDW |
| 7 | DEADPOOL TP VOL 02 SOUL HUNTER NOW | $15.99 | MAY130727 | MAR |
| 8 | SUPERIOR SPIDER-MAN TP VOL 02 TROUBLED MIND NOW | $17.99 | MAY130724 | MAR |
| 9 | FLASH TP VOL 01 MOVE FORWARD (N52) | $16.99 | MAY130224 | DC |
| 10 | BPRD HELL ON EARTH TP VOL 06 RETURN O/T MASTER | $19.99 | APR130044 | DAR |
| 11 | NARUTO TP VOL 62 | $9.99 | MAY131322 | VIZ |
| 12 | GUARDIANS OF GALAXY PREM HC VOL 01 COSMIC AVENGERS NOW | $24.99 | MAY130717 | MAR |
| 13 | BATMAN ARKHAM UNHINGED TP VOL 01 | $14.99 | MAY130229 | DC |
| 14 | YOUNG AVENGERS TP VOL 01 STYLE SUBSTANCE NOW | $15.99 | JUN130682 | MAR |
| 15 | BATMAN TP VOL 01 THE COURT OF OWLS (N52) | $16.99 | DEC120323 | DC |
| 16 | SPIDER-MAN TP DYING WISH | $19.99 | MAY130723 | MAR |
| 17 | BUFFY THE VAMPIRE SLAYER WILLOW WONDERLAND TP | $17.99 | APR130053 | DAR |
| 18 | DAREDEVIL BY MARK WAID TP VOL 04 | $16.99 | JUN130690 | MAR |
| 19 | FLASH HC VOL 02 ROGUES REVOLUTION (N52) | $24.99 | APR130222 | DC |
| 20 | TALON TP VOL 01 SCOURGE OF THE OWLS (N52) | $16.99 | MAY130217 | DC |
| 21 | RACHEL RISING TP VOL 03 CEMETERY SONGS | $16.99 | JUN130709 | ABS |
| 22 | WOLVERINE TP VOL 01 HUNTING SEASON NOW | $17.99 | MAY130729 | MAR |
| 23 | LEAGUE OF EXTRAORDINARY GENTLEMEN OMNIBUS TP | $29.99 | MAY130257 | DC |
| 24 | MARCH GN BOOK 01 | $14.95 | JUN131298 | TOP |
| 25 | HAWKEYE TP VOL 01 MY LIFE AS WEAPON NOW | $16.99 | DEC120744 | MAR |
| 26 | BATMAN THE KILLING JOKE SPECIAL ED HC | $17.99 | NOV070226 | DC |
| 27 | SAVAGE SWORD OF CONAN TP VOL 14 | $19.99 | APR130065 | DAR |
| 28 | SAVAGE WOLVERINE PREM HC VOL 01 KILL ISLAND NOW | $24.99 | MAY130718 | MAR |
| 29 | HELLBLAZER TP VOL 06 (MR) | $19.99 | MAY130258 | DC |
| 30 | SMALLVILLE SEASON 11 TP VOL 02 DETECTIVE | $14.99 | MAY130214 | DC |
| 31 | TODD THE UGLIEST KID ON EARTH TP VOL 01 | $9.99 | JUN130497 | IMA |
| 32 | WALKING DEAD TP VOL 18 WHAT COMES AFTER | $14.99 | APR130482 | IMA |
| 33 | LONE WOLF & CUB OMNIBUS TP VOL 02 | $19.99 | APR130078 | DAR |
| 34 | BATMAN ARKHAM UNHINGED HC VOL 02 | $22.99 | APR130226 | DC |
| 35 | CROSSED TP VOL 06 (MR) | $24.99 | JUN130811 | AVA |
| 36 | VENOM TP TOXIN WITH A VENGEANCE | $15.99 | MAY130735 | MAR |
| 37 | FURY MAX TP VOL 02 MY WAR GONE BY (MR) | $19.99 | JUN130698 | MAR |
| 38 | DAREDEVIL BY MARK WAID PREM HC VOL 05 | $19.99 | MAY130730 | MAR |
| 39 | FANTASTIC FOUR TP VOL 02 ROAD TRIP NOW | $15.99 | MAY130726 | MAR |
| 40 | FABLES DELUXE EDITION HC VOL 07 (MR) | $29.99 | APR130253 | DC |
| 41 | HAWKEYE TP VOL 02 LITTLE HITS NOW | $16.99 | MAR130726 | MAR |
| 42 | DR STRANGE AND DR DOOM TP TRIUMPH AND TORMENT | $16.99 | MAY130742 | MAR |
| 43 | SECRET AVENGERS TP VOL 01 REVERIE TP NOW | $17.99 | JUN130683 | MAR |
| 44 | IRON MAN PREM HC VOL 02 SECRET ORIGIN OF STARK BOOK 1 | $24.99 | MAY130719 | MAR |
| 45 | NIGHTWING OLD FRIENDS NEW ENEMIES TP | $14.99 | MAY130230 | DC |
| 46 | BATMAN DARK KNIGHT RETURNS TP | $19.99 | NOV118095 | DC |
| 47 | ALAN MOORE FASHION BEAST TP (MR) | $24.99 | JUN130807 | AVA |
| 48 | DEADPOOL TP VOL 01 DEAD PRESIDENTS NOW | $15.99 | MAR130727 | MAR |
| 49 | FLASHPOINT TP | $14.99 | DEC110276 | DC |
| 50 | MIGHTY THOR OMNIBUS HC VOL 02 | $99.99 | MAR130720-M | MAR |