Sneak Peek: Lost Planet — First Colony HC
Sep 02, 2013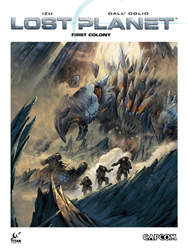 Publisher: Titan Comics

(W) Izu
(A/Cover) Dall'Oglio
Dive into a terrifying adventure of Ice and Akrid, as a mission of interstellar salvage turns into a furious battle for survival!
The planet of E.D.N. III seemed ripe for colonization — its icy climes ready to be warmed and terraformed. That was, until the first settlers discovered the indigenous Akrid - ravenous creatures, powered by their own thermal energy, which proved resistant to every weapon the colonists could muster.
That first terraforming effort ended in tragedy, with the colony — and its rich haul of terraforming equipment — hastily abandoned.
---
Item Code: SEP131323 In Shops: 01/01/14 Price: $9.99

---
Are you following PREVIEWSWorld on Twitter yet? Follow @PREVIEWSworld