Sneak Peek: Kiss Me, Satan #1 from Dark Horse Comics
Jul 12, 2013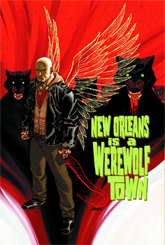 Publisher: Dark Horse Comics

(W) Victor Gischler
(A) Juan Ferreyra
(CA) Dave Johnson

Cassian Steele is the boss of the werewolf mafia in the Big Easy, and he's got a problem. The old witch Verona knows his secret and has gone into hiding. Cassian wants her dead. So he sends out the word: An open contract.

The first monster to dust Verona gets a big payday. What no one realizes is that Barnabus Black, a demon desperately trying to regain his halo, is her protection.
---
Item Code: JUL130037 In Shops: 9/18/2013 Price: $3.99

---
Are you following PREVIEWSWorld on Twitter yet? Follow @PREVIEWSworld