New Digital Comics Releases: June 19, 2013
Jun 17, 2013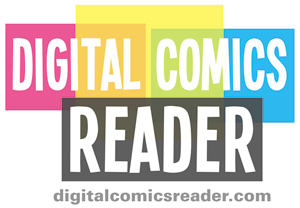 Digital Comics Reader is a unique initiative that lets your local comic book shop sell digital comics and graphic novels directly to you. Make sure you download the unique Digital Comics Reader app at www.digitalcomicsreader.com. It's available for use on the web, Apple iPhone or for Android phones.

If you are in your comic book shop, tell your retailer that you'd like to purchase a digital comic book and they'll give you a download code.

If you are online, many retailers have digital comics available directly from their websites, so you can pay and download your digital copy at your own convenience.
Below you'll find a complete list of the comic and graphic novels released digitally through Digital Comics Reader this week.


NEW FROM DIGITAL COMICS READER:
IDW

The X-Files Season 10 #1
APR130303
IMAGE

Invincible #103
MAR130572
Aspen Comics

Fathom: The Elite Saga #1
APR130859
PREMIER PUBLISHERS
ITEM CODE
DESCRIPTION
DIGITAL
PRICE
PRINT PLUS
PRICE
IDW PUBLISHING
APR130395
DANGER GIRL TRINITY #3
$1.99
$0.99
APR130373
DOCTOR WHO VOL 3 #10
$1.99
$0.99
APR130323
GI JOE #5
$1.99
$0.99
APR130329
GI JOE A REAL AMERICAN HERO #191
$1.99
$0.99
APR130327
GI JOE COBRA FILES #3
$1.99
$0.99
APR130310
JUDGE DREDD YEAR ONE #3
$0.99
N/A
APR130366
MY LITTLE PONY MICRO SERIES #5 PINKIE PIE
$1.99
$0.99
APR130338
TRANSFORMERS MORE THAN MEETS EYE #18
$1.99
$0.99
APR130320
WILD BLUE YONDER #1
$2.99
$0.99
APR130303
X-FILES SEASON 10 #1
$0.99
N/A
APR130391
ALAN ROBERT KILLOGY TP
$19.99
N/A
IMAGE COMICS
MAR130572
INVINCIBLE #103
$2.99
N/A
APR130543
IT GIRL & THE ATOMICS #11
$2.99
N/A
FEB130456
MARA #5 (MR)
$2.99
N/A
MAR130582
MIND THE GAP #11 CVR A ESQUEJO
$2.99
N/A
FEB130430
MIND THE GAP TP VOL 02 WISH YOU WERE HERE (MR)
$14.99
N/A
APR130555
MINIATURE JESUS #3 (MR)
$3.99
N/A
APR130568
REVIVAL #11
$2.99
N/A
APR130443
SAGA TP VOL 02 (MR)
$14.99
N/A
APR130502
WITCH DOCTOR TP VOL 02 MAL PRACTICE
$14.99
N/A
COMICS & GRAPHIC NOVELS

ITEM CODE
DESCRIPTION
DIGITAL
PRICE
PRINT PLUS
PRICE
ANTARCTIC PRESS
MAR130781
GOLD DIGGER #201
$0.99
N/A
JAN130821
LAST ZOMBIE #2 THE END
$0.99
N/A
ARCHIE COMIC PUBLICATIONS
APR130815
B & V FRIENDS DOUBLE DIGEST #234
$3.99
$0.99
APR130812
BETTY & VERONICA #266 REG CVR
$2.99
$0.99
APR130817
LIFE WITH ARCHIE #30 REG CVR
$3.99
$0.99
APR130828
SONIC SAGA TP VOL 03 EGGMAN EMPIRE
$11.99
N/A
APR130819
WORLD OF ARCHIE DOUBLE DIGEST #30
$3.99
$0.99
ASPEN MLT INC
APR130859
FATHOM ELITE SAGA #1 CVR A MARION
$3.99
N/A
BOOM! STUDIOS
APR130938
FANBOYS VS ZOMBIES #15
$3.99
N/A
APR130942
HELLRAISER DARK WATCH #5 (MR)
$3.99
N/A
TOP COW
APR130578
WITCHBLADE #167 CVR A CHRISTOPHER
$2.99
N/A
TOP SHELF PRODUCTIONS
FEB131140
CRATER XV HC
$9.99
N/A
FEB131141
HECK HC
$9.99
N/A