In Comic Shops 4/17/2013: Jirni #1
Apr 17, 2013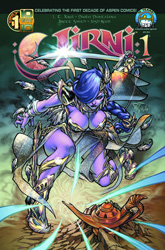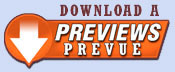 Publisher: Aspen Comics

(W) J. T. Krul
(A/Cover) Paolo Pantalena

Take an incredible Jirni with Aspen's newest '10 for 10' series debut! Discover a whole new world of adventure! Trekking through a violent and dangerous frontier of savage barbarians, devious thieves, and wild creatures, a warrior-princess named Ara searches for her mother, who was stolen away from her kingdom by a mysterious sorcerer with the help of his powerful D'jinn.
---
Item Code: FEB130746 In Shops: 4/17/2013 Price: $1.00

---
Are you following PREVIEWSWorld on Twitter yet? Follow @PREVIEWSworld