In Comic Shops 4/3/2013: Abe Sapien — Dark & Terrible #1
Mar 27, 2013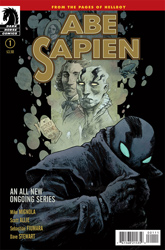 Publisher: Dark Horse Comics

(W) Mike Mignola, Scott Allie
(A) Sebastian Fiumara
(Cover) Dave Stewart, Sebastian Fiumara
Bleak and brutal writing at its finest Abe's most defining moments are now in a new long-running series.
On the run from the B.P.R.D., a mutated Abe Sapien traverses a devastated America, with monster corpses scattered around and cities in ruin.
Feel the loss of hope as Sebastián Fiumara (Loki, Mystery in Space) joins the Mignolaverse! Special variant cover featuring Hellboy!
---
Item Code: FEB130010 In Shops: 4/3/2013 Price: $3.50

---
Are you following PREVIEWSWorld on Twitter yet? Follow @PREVIEWSworld