Sneak Peek: The Accelerators #1
Mar 08, 2013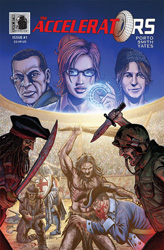 Publisher: Blue Juice Comics
(W) R.F.I. Porto
(A) Gavin Smith
(Cover) Walter Flanagan
In this six-issue mini-series, time travelers Alexa and Bertram pursue each other through the decades in a deadly chase.
Each is armed with a time machine that has only one rule: it can only move forward in time, never backward. Alexa must leap further into the future, with Bertram never far behind.
Caught in the crossfire is Spatz, a teenager from the 1990s who tries to help but instead gets dragged into another time.
Item Code: MAR130908
Price: $3.99
PREVIEWS Page #274
In Shops 5/22/2013
Are you following PREVIEWSWorld on Twitter yet? Follow @PREVIEWSworld