In Comic Shops 2/13/2013: The Walking Dead #107
Feb 08, 2013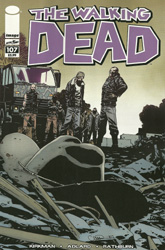 Publisher: Image Comics

(W) Robert Kirkman
(A) Charlie Adlard, Cliff Rathburn
(Cover) Charlie Adlard
Rick is, once again, pushed beyond his breaking point. And we know what comes next.
The question is, who is in the line of fire and what will the consequences be?
Meanwhile, details emerge about Negan's home base, and even more promising is the ability to make home-made ammunition. Mature Readers.
---
Item Code: DEC120592 In Shops: 2/13/2013 Price: $2.99

---
Are you following PREVIEWSWorld on Twitter yet? Follow @PREVIEWSworld