Show Your Valentine Love At Your Local Comic Shop
Feb 11, 2013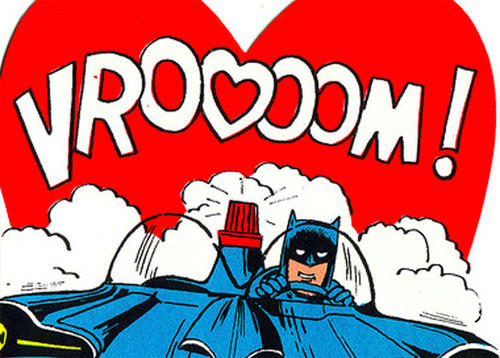 This Valentine's Day, thousands of guys will buy their special someone some flowers and a box of chocolate.  The two of them might go to dinner or a movie, and at the end of the day, he'll get a kiss goodnight and maybe even an "Aww you are so sweet."  And that's all any man could ever ask for, right?

Well, if not, maybe your sweetheart could just use a little clue on what to get you on Valentine's Day.  This year, your local comicbook store has just the thing!  Valentine's comics are perfect to read together, featuring all the superheroes and villians you want, and all of the mushy, cute things that she appreciates.  So snuggle up with your favorite comic, and enjoy Valentine's Day the way it was meant to be celebrated.  Whether it's a love for your favorite hero, or for someone else, buying a comic is the best way to show your appreciation.

No romantic holiday would be complete without a little poem that might sweep them off their feet:

Superman's smile is so pleasent,
And Catwoman is wearing leather,
So this year pick up a Valentine's present,
You can both enjoy reading together.

You won't want to miss these!


---
YOUNG ROMANCE NEW 52 VALENTINES DAY SPECIAL #1

Publisher: DC COMICS

Wonder Woman consults Eros himself about her feelings for The Man of Steel.

Barbara Gordon has always been too busy for romance, but could her role as Batgirl bring her back to the first guy she ever kissed?

Following the events of "Death in the Family," how can Catwoman ease Batman's troubled soul?

Aquaman makes waves as he treats his wife like a queen for a day.

From the pages of STORMWATCH, Apollo and Midnighter celebrate Valentine's Day separately but with each other in mind. Who-or what-stands between them?

Dick Grayson and the daughter of Lucious Fox meet-cute!

Plus: Perforated Valentine's Day cards featuring the stars of these stories!



SPIDER-MAN LOVES MARY JANE PREM HC VOL 01 JINX DM ED

Publisher: MARVEL COMICS

At long, long, long, looooooooooooooooong last, SHE'S BACK! Mary Jane Watson, in her very own adventures!

Superstar writer Terry Moore (Strangers in Paradise, upcoming RUNAWAYS) supplies story (and covers!) and artist Craig Rousseau (The Perhapanauts) brings his best for this all-new mini.

It's the beginning of a new high school year. MJ finally feels like she's got her life in order. Good friends, good classes, good relationship with a certain Wall-Crawler...but is there someone behind the scenes that's got it in for our rambunctious redhead?



BATMAN MAD LOVE AND OTHER STORIES TP

Publisher: DC COMICS

Now in trade paperback, this fantastic collection features the origin of Harley Quinn, co-starring The Joker and Poison Ivy.

Also included are tales starring The Scarecrow, Ra's al Ghul, Mr. Freeze and Batgirl from BATMAN ADVENTURES ANNUAL #1-2, BATMAN ADVENTURES HOLIDAY SPECIAL, ADVENTURES IN THE DC UNIVERSE #3 and BATMAN BLACK AND WHITE #1.



HULK HEART OF ATOM TP


Publisher: MARVEL COMICS

The Hulk can find enemies anywhere, even on a sub-molecular level - but love long eluded him until his atom-shattering romance with Jarella!

The tiniest of worlds offered him all that he ever desired - but when the Hulk fights his way through obstacles on both Earth and K'ai, what will be left waiting for him? Collecting INCREDIBLE HULK (1968) #140, #148, #156, #202-203, #205-207 and #246-248; and WHAT IF? (1977) #23.





HARLEQUIN VALENTINE HC

Publisher: DARK HORSE COMICS


This hardcover retelling of the Commedia dell'arte legend of hopeless, fawning love updates the relationship of buffoonish Harlequin and his sensible, oblivious Columbine.

Consumed with love, the impulsive clown gives his heart freely, only to see it dragged about town, with a charming surprise to bend the tale in a modern direction. Spending a cold Valentine's Day alone can be hard to swallow, but Neil Gaiman (Coraline, Newbery Medal winner The Graveyard Book) and John Bolton (The Evil Dead) want you to know that all it takes is a steak knife, a fork, and a bottle of quality ketchup.

Finally back in print!


LOVESTRUCK GN (MR)

Publisher: IMAGE COMICS

It's a love story, but not like you think.  There's no boy meets girl or star-crossed soul mates.  Love is a billion-dollar industry.  Cupid's the megalomaniac CEO.  And Kali Monroe gets paid to break your heart.  Love is all around us.  These are the pricks who control it.



DC 100 PAGE SUPER SPECTACULAR LOVE STORIES REPLICA EDITION

Publisher: DC COMICS

A Replica Edition of the never-before-reprinted DC 100-Page Super-Spectacular #5, the rarest of DC's Super-Spectaculars (originally published in 1971).

Features timeless stories with such irresistible titles as My Sister Stole My Man!, My Shameful Past, The Wrong Kind of Love and the 2-part novelette Made for Love.

Includes the special bonus feature, Ted Long of NBC's The Today Show tells you How to Look Fabulous!



TWELVE REASONS WHY I LOVE HER GN (MR)

Publisher: ONI PRESS INC.

A romance novel told in twelve individual vignettes.

Twelve Reasons explores the relationship of young couple Gwen and Evan, and the ups and downs of their relationship.


---

Now these are the kind of gifts that show someone you care about them. 

Instead of a bouquet of roses, try a bouquet of comics! 

Show your favorite series some love on Valentine's Day!  Even superheroes need to know how much you care. 

So grab a good comic and cuddle up on the couch.  And ladies, buy a comic for your favorite superman!

Find a comic shop near you at http://www.comicshoplocator.com or call 1-888-COMIC-BOOK!