Happy #3 Gets 2nd Printing
Jan 03, 2013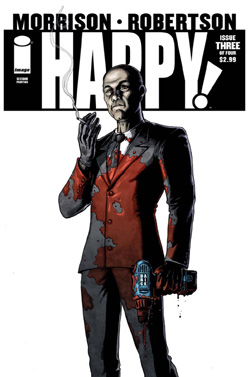 Grant Morrison and Darick Robertson's Happy #3 rings in the new year with a third printing!
Since the release of the Image Comics' mini-series, each consecutive issue has consistently received a second printing. Happy the Horse seems to be connecting with readers. Released on December 19, Happy #3 continues the skewed take on a classic holiday tale. In this issue, Happy the Horse learns what turned Nick Sax from golden cop to a broken-down hitman. Which is a good thing, as this information comes when there's only a day left until Christmas — and time is running out for Santa's innocent victims.
"An excellent issue full of amazing art with great plot and character development."
- Weekly Comic Book Review

"There seems to be nothing Robertson can't do well: his sense of facial expression and body language are top-notch, his scenery is enthralling, and his handle on sequential motion rivals some of the very best."
- Multiversity Comics

"It's about an ugly world and the strength of innocence and belief. It's solid stuff, even if it's a bit over the top at times. Morrison delivers, as usual."
- IGN

The second printing of Happy #3 (NOV128183) will be in stores on January 30.