PREVIEWSworld 2012: Comic Convention Recap
Dec 29, 2012
The year 2012 was another big year for comics! Lots of new books were released, big announcements were made and the comic conventions were awesome.

If you were able to attend Comic-Con in San Diego or any other other convention you know what we mean.

Well, PREVIEWSworld was lucky to be able to attend some of the big shows and talk to several publishers and creators.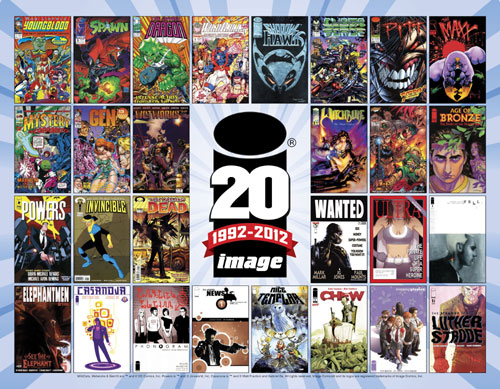 Image Expo took place in February at the Oakland Convention Center and commemorated the formation of Image Comics 20 years ago.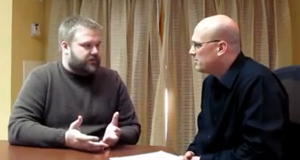 Image Partner Robert Kirkman sat down with Vince Brusio for an exclusive interview that focused on The Walking Dead and other titles in Kirkman's library. In the interview you hear about his role in the hit AMC television series and how Image Comics has evolved over the past 20 years.

Kirkman also talks about how he is able to write comics as different as The Walking Dead and Super Dinosaur.

"I've joked about writing something like The Walking Dead which is so completely, utterly depressing at times that I'll write about three or four pages and be in a horrible mood and then I'll need to go take a break and write some dinosaurs shoot missles," explained Kirkman. "I have so many emotions going into so many different kinds of books it's better for me to take breaks and do different kinds of stories."

Vince also caught up with the men behind Man of Action Studios, Joe Casey and Steven Seagle to talk about some of their current projects. Joe Keatinge took time to talk about Glory and Hell Yeah, Sina Grace talked about Li'l Depressed Boy and Morning Glories & Thief of Thieves writer Nick Spencer shared his approach to writing comics.





The big comics show every year is San Diego Comic-Con. The convention keeps getting bigger and more publishers and creators are there for signings, panels and to do interviews with websites like PREVIEWSworld.

At SDCC 2012 we talked with nearly 20 of those creators. As soon as the show started we interviewed DC Comics Co-Publisher Dan DiDio about the New 52 Zero Month and Before Watchmen. It's cool to watch this interview, because most of the comics Dan talks about are now in stores.

Vince Brusio sat down with Robert Kirman again to talk about The Walking Dead #100. Catching up with Kirkman was great as he talks about how the comic is different now that the characters are living in "Negan's world."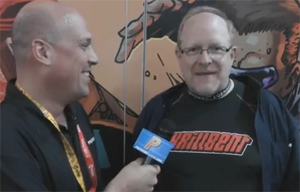 Mark Waid spent time talking with Vince about writing Daredevil for Marvel Comics and his new digital comic Thrillbent. Daredevil won three Eisner Awards with Waid being named best writer.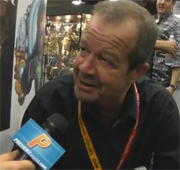 Darwyn Cooke told us that he would work on Parker books for the rest of his life if he could. Richard Stark's Parker: The Score from IDW Publishing was released on July 11th in time for SDCC.

Do you love Star Wars? If so, you need to check out the interview we did with artist Dave Dorman. He goes in depth into how he comes up with his ideas for his Star Wars paintings and also talks about the Darth Maul covers he created for Dark Horse Comics.

We were also able to do video interviews with these creators:

Sam Humphries
Jill Thompson
Landry Q. Walker and Eric Jones
Nathan Edmondson
Vince Hernandez
Zak Penn and Scott Murphy
Doug Paszkiewicz
Jennifer Bermel
Kevin J. Anderson
Jeffrey Kaufman

And from the TV/Movie world:
Michael Easton
Patricia Tallman

But we also found time to check out all the great cosplayers in attendance. Here is a photo gallery and here is another!

Oh and we shot some video of cosplayers too!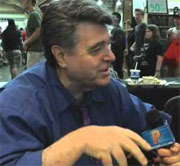 In September we attended Baltimore Comic-Con and sat down with the legendary Neal Adams.

In our three-part video interview Adams discusses Batman: Odyssey from DC Comics, Neal Adams's Blood from Dark Horse Comics and The First X-Men from Marvel Comics.

And just like San Diego Comic-Con we were able to find a few more cosplayers and put together another photo gallery.


October is another big convention month with New York Comic Con. We were able to interview even more great creators and hear about upcoming comics.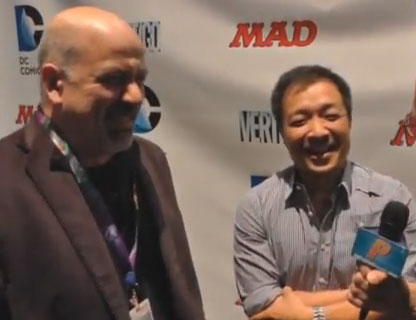 DC Comics Co-Publisher's Dan DiDio and Jim Lee talked about what you can expect to see in the future for the New 52, including the Trinity War crossover event coming on 2013.

We also sat down with Wonder Woman writer Brian Azzarello to talk about 100 Bullets and his Before Watchmen titles.
Publisher Mike Richardson told us all about the new titles coming soon from Dark Horse Comics, including his own "47 Ronin".


Iron Man writer Kieron Gillen talked about two of his other Marvel titles AvX Consequences and Young Avengers. Consequences was a five-issue series that dealt with the fallout of Avengers VS X-Men and Young Avengers, which debuts in January 2013, is a brand new volume of the title.

"I had to reinvent the book completely while trying to keep true to it's core emotional values," Gillen said about Young Avengers. "I've tried to reinvent the superhero team comic book for the 21st century and you say that with a straight face almost. We just want to push it as far as it can go."
If you are a fan of Shakespeare then you'll want to check out our interview with Anthony Del Col and Andy Belanger. Kill Shakespeare: The Tide of Blood starts the second series of IDW Publishing's critically acclaimed comic that features numerous characters from William Shakespeare's famous plays.

We were also able to talk with Tom Sniegoski who is writing Vampirella Strikes for Dynamite Entertainment, Courtney Crumrin creator Ted Naifeh from Oni Press and Tom Hutchinson from Big Dog Ink.

And yes we did squeeze in time for another cosplay photo gallery!

It was a wild and exciting convention season in 2012. We can't wait to get to the shows again in 2013!

Happy New Year from all of us at PREVIEWSworld!