A Moment With J.T. Krul Reveals His Future Jirni
Dec 26, 2012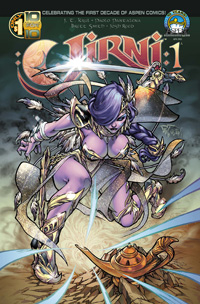 Aspen Comics' plans for their tenth anniversary celebration in 2013 continues as the publisher announced its third release in their sweeping "10 for 10" initiative. The title is an all-new fantasy-adventure epic, Jirni, created by writer J.T. Krul with art by Paolo Pantalena and Brett Smith.
Creator JT Krul reflects on Jirni below:
"Jirni is a celebration of all the things I love about fantasy and adventure. It's the tale of a girl on a quest beyond anything she ever imagined, venturing into a world she barely knew existed. For anyone who has been captivated by the vivid imagery of Frazetta's masterpieces, this book is for you. For anyone who relished in the visceral energy of Conan the Barbarian or got lost on the rich mythic sagas of Excalibur or Clash of the Titans; for anyone who rolled a ten-sided die or refused to leave Middle Earth; for anyone who followed such adventurers as Flash Gordon or John Carter, or walked the long and crazy path with a gunslinger named Roland, this book is for you. Don't miss it. It's going to be a hell of a Jirni."
As part of Aspen's "10 for 10" initiative, Jirni #1 will be offered for the new reader-friendly price of only $1, and will feature a host of incentives for retailers and fans alike, many to be announced by the publisher in the coming weeks.

The affordably priced Jirni #1 will feature a direct cover by the series team of Pantalena and Smith, while fans who add the series to their local comic shop's subscription box are eligible for the special Jirni #1 Aspen Reserved Edition cover by Pantalena and colorist Peter Steigerwald. Fans who collect all ten of Aspen's "10 for 10" Reserved Edition covers will be eligible to receive the free full-size Aspen Comics "10 for 10" Jam Poster from their local retailer.