Dysart Forms 'Renegades' Super-Team In Harbinger
Dec 12, 2012

Harbinger #7-10 interlocking covers by Mico Suayan
(Click to view larger)
The rise of Valiant Universe's first super-team is happening now in Harbinger.

New York Times best-selling author Joshua Dysart writes the comic about teenage psionic Peter Stanchek and his crusade against Toyo Harada's Harbinger Foundation.

We talked with Joshua about the new "Renegades" story arc and the upcoming Harbinger #0 issue.


---

PREVIEWSworld: How much have you enjoyed writing the Harbinger series for Valiant?

Joshua Dysart: Ugh... I hate it. Just kidding! It's been a blast. My last series, Unknown Soldier, was a work that demanded some heavy research into a very intense subject. So this has been a great new turn for me. I just kind of get to go crazy and come up with new twists on the superhero concept. It's a blast. And instead of reading book after book about East African politics, I'm back to reading whatever I want and just letting my general interests inform the work.

PREVIEWSworld: Before we talk about the "Renegades" storyline, let's first talk about Harbinger #0 coming out in February. What can you tease about the origin of Toyo Harada?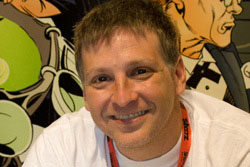 Joshua Dysart: Well, a tease is all you'll get you cheeky bastards! I think the zero issue is going to really surprise a lot of people. Put simply, it covers Harada as a young man in the first few days after the bomb was dropped on Hiroshima in 1945. But it's so much more than that. We'll see how the modern Harada Global Conglomerates consolidates power and how the lessons a young Harada learned in that wartorn landscape fashioned the decisions he makes today. And even though I've told you all of this... you still have no idea what it's REALLY about.

PREVIEWSworld: Teenage psionic Peter Stanchek was on a destructive path in his life so he joined Toyo Harada's Harbinger Foundation. But he never really fit in there did he?

Joshua Dysart: No. But that's just as much Harada's fault as Peter's. Maybe even more so. It's hard to reach out to a kid like Peter. He's distrustful and emotionally closed off. Institutions - schools, corporations, etc. - terrify him. Harada is brilliant. But Harada has lost touch with something human inside of him. All that power. Always getting what he wants. He didn't create an atmosphere of understanding for Peter. He tried to hammer Peter into what he wanted him to be. When this didn't work, Harada took a drastic step that showed just how little he regards individual life. That was the mistake that will fuel a hundred issues of Harbinger.

The thing is, Harada has vision. But he's not democratic. Democracy is clumsy and inefficient. And yet, having regard for the concerns of all people is the only real way for humanity to move forward. Peter, on the other hand, has no vision, but he's the most democratic person you'll ever meet. He wants everyone to have power. These two men, Harada and Peter... they don't know it... but they embody this struggle. The individual will versus the collective good. Of course it's not quite that black and white, but that ultimately what it's all about.

PREVIEWSworld: Harbinger #6 kicked off the "Renegades" storyline, which runs from issues #6 through #10. What can we expect as Peter Stanchek forms a team to take on the Harbinger Foundation?

Joshua Dysart: The RENEGADES arc has been even more fun for me to write than the first arc ("Omega Rising", the trade hits in January!) because each issue has its own flavor and character (and I mean "character" both literally and figuratively). Issue six, on stands now, is a cat-and-mouse drama about the smart, but "powerless", Kris Hathaway. Issue seven features the sly-sexiness of Flamingo. Then in eight we get the totally over-the-top ridiculousness of Torque, which will probably be the most fun and funny issue of Harbinger yet. Then nine is the enthusiastic all-out-superhero fanboy joy of Faith. Then, finally, in issue 10, we end with the first step in Peter's climb to redemption. Every issue in the next arc has something fresh for the readers to sink their teeth into. And when the arc is done, the Valiant Universe will have its first real superhero team on its hands.

PREVIEWSworld: You've been able to work with a great team of artists on this comic. How has that been?

Joshua Dysart: It's been AWESOME! Khari Evans is quite honestly one of the best storytellers I've worked with. I fell in love with Lewis Larosa's line. Now, coming up in issue seven is Barry Kitson! Barry freakin' Kitson! Thing is, I grew up reading 2000AD, and I remember Kitson's work in it. To be working with him is a huge honor for me. Like when I worked with Corben or Mignola or Veitch, it's that level of special as far as I'm concerned. Man, I love comics.

PREVIEWSworld: Finally, will Harbinger eventually crossover with other titles in the Valiant Universe?

Joshua Dysart: Yes. Very, very soon. Sooner than you think. In fact, as soon as the Renegades arc is done, I have a feeling our cast of misfits is going to have their world blown wide open!


Exclusive Harbinger #7 colored interior pages by Barry Kitson!
(Click to view larger images)
Harbinger #0 Covers
(Click to view larger images)
| | |
| --- | --- |
| | |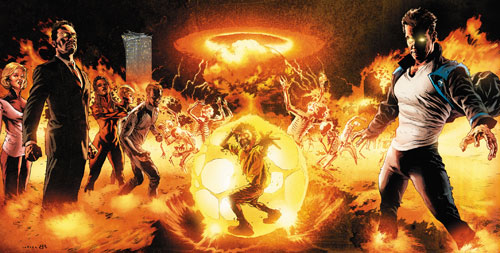 "Renegades" Part II – Flamingo:
HARBINGER #7 – ON SALE DECEMBER 19th!
Written by JOSHUA DYSART
Art by BARRY KITSON
Cover by MICO SUAYAN (OCT121235)
Flamingo Variant by EMANUELA LUPACCHINO (OCT121236)
$3.99/Rated T+/32 pgs.

"Renegades" Part III – Torque:
HARBINGER #8 – ON SALE JANUARY 23rd!
Written by JOSHUA DYSART
Art by LEE GARBETT
Cover by MICO SUAYAN (NOV121342)
Torque Variant by KHARI EVANS (NOV121343)
Linewide Variant by JEFF LEMIRE (NOV121344)
$3.99/Rated T+/32 pgs.

HARBINGER #0 — ON SALE FEBRUARY 6th!
Written by JOSHUA DYSART
Art & Cover by MICO SUAYAN
Pullbox Exclusive Variant by CLAYTON HENRY & CLAYTON CRAIN
Wraparound Gatefold Variant by LEWIS LAROSA
$3.99/Rated T+/32 pgs.

"RENEGADES" Part IV – Zephyr:
HARBINGER #9 – ON SALE FEBRUARY 20th!
Written by JOSHUA DYSART
Art by MATTHEW CLARK
Cover by MICO SUAYAN (DEC121263)
Variant Cover by KHARI EVANS (DEC121264)
$3.99/Rated T+/32 pgs.

"RENEGADES" Part V – Peter:
HARBINGER #10 – ON SALE MARCH 20th!
Written by JOSHUA DYSART
Art by CLAYTON HENRY
Cover by MICO SUAYAN
Variant Cover by KHARI EVANS
$3.99/Rated T+/32 pgs.