Diamond Exclusive: A Tour Stop With Jaime Hernandez
Oct 07, 2012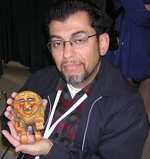 From September 14th-23, the seminal Love and Rockets creators Gilbert and Jaime Hernandez toured from Washington D.C. to Brooklyn as part of the 30th Anniversary of Love and Rockets. On this tour, which stopped at the Small Press Expo in Bethesda, Sept 15 and 16th, they did several signings at the Fantagraphics table throughout the convention weekend. At the show, Jaime won awards for "Outstanding Artist," as well as "Outstanding Story" ("Return to Me") featured in Love & Rockets New Stories #4. The Hernandez Brothers also won the "Outstanding Series" award for Love and Rockets New Stories #4. So it's safe to say that Los Bros Hernandez are having a good year, to say the least, and this is probably why Jaime Hernandez was nice enough to stop doing a million things at once and take a few minutes to say a few things to us folks in the Diamond bullpen.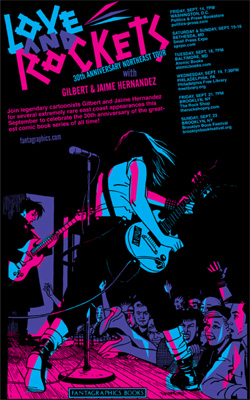 Diamond: This past September, Love and Rockets New Stories #4 garnered "Outstanding Artist," "Outstanding Story," and "Outstanding Series" Ignataz Awards at the Small Press Expo in Bethesda, Maryland. As you've both been in the comics biz for so long, and still show yourselves at the top of your game given the awards you've won, what could you point towards as being the secret for your success?

Jaime Hernandez: One thing is that I have always separated the actual work from what goes on in my comic life and my personal life as well. Whether our popularity or sales are up or down has never affected the need to make the best comics I possibly can.

Diamond: Tell us about the Love and Rockets tour that has the both of you now on the road, greeting fans across the country.

Jaime Hernandez: Celebrating 30 years, we did signings and talks in DC, Bathesda, Baltimore, Philadelphia and Brooklyn. I enjoy doing venues and meeting fans from places I've never been. Also got to hang with other comics people I knew only by their work.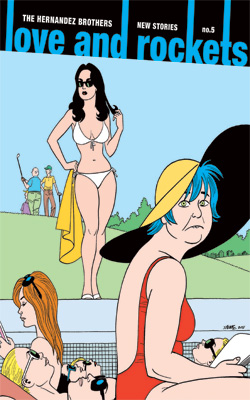 Diamond: If you had to point towards certain cultural/social issues as being key inspiration for some of your stories, what would those issues be?

Jaime Hernandez: Basically the issues of who I am and where I come from and what I'm made of. Being a Mexican-American from Southern California with punk as well as low rider roots, and putting that into my stories automatically puts the cultural/social stuff in there, especially in comics and especially when we started in the early 80s.

Diamond: Have you ever been able to take away feedback/experiences from your fans and find a way to channel that into L&R new characters or plots?

Jaime Hernandez: Oh, yes. Positive feedback has always boosted my confidence to do better work and try new things. Negative response can also be a good booster. That is, after the time I spend feeling sorry for myself.

Diamond: If you were able to see what people would say about Love and Rockets 25 years from now, what would you hope people would take away from your work?

Jaime Hernandez: That it still works. That it's timeless. I can dream, can't I?

Order these in-stock Love & Rockets titles at your local comic shop!
| | | |
| --- | --- | --- |
| Code | Title | Price |
| | ESPERANZA LOVE & ROCKETS BOOK SC (MR) | $18.99 |
| | GHOST OF HOPPERS A LOVE & ROCKETS BOOK HC (MR) | $18.95 |
| | LOVE & ROCKETS DICKS & DEEDEES HC | $18.95 |
| | LOVE & ROCKETS SC #17 FEAR OF COMICS | $12.95 |
| | LOVE & ROCKETS SC #19 LUBA IN AMERICA (MR) | $19.95 |
| | LOVE & ROCKETS SC #4 TEARS FROM HEAVEN (MR) | $18.95 |
| | LOVE & ROCKETS SC #6 DUCK FEET (MR) | $18.95 |
| | LOVE & ROCKETS SC VOL 03 LAS MUJERES PERDIDAS (MR) | $19.95 |
| | LOVE & ROCKETS SC VOL 15 HERNANDEZ SATYRICON (MR) | $18.95 |
| | LOVE & ROCKETS SKETCHBOOK #2 | $19.95 |
| | LOVE & ROCKETS SKETCHBOOK HC VOL 02 | $39.95 |
| | LOVE & ROCKETS VOL 11 | $16.95 |
| | LOVE & ROCKETS VOL 2 #10 (MR) | $5.95 |
| | LOVE & ROCKETS VOL 2 #12 (MR) | $4.50 |
| | LOVE & ROCKETS VOL 2 #13 (MR) | $4.50 |
| | LOVE & ROCKETS VOL 2 #14 (MR) | $4.50 |
| | LOVE & ROCKETS VOL 2 #15 (MR) | $4.50 |
| | LOVE & ROCKETS VOL 2 #17 (MR) | $4.50 |
| | LOVE & ROCKETS VOL 2 #18 (MR) | $4.50 |
| | LOVE & ROCKETS VOL 2 #19 (MR) | $4.50 |
| | LOVE & ROCKETS VOL 2 #20 (MR) | $7.99 |
| | LOVE & ROCKETS VOL 2 #3 (MR) | $3.95 |
| | LOVE & ROCKETS VOL 2 #6 (MR) | $3.95 |
| | LOVE & ROCKETS VOL 2 #9 (MR) | $3.95 |
| | LOVE & ROCKETS VOL 5 HOUSE OF RAGING WOMEN SC | $18.95 |
| | LOVE & ROCKETS VOL 8 BLOOD OF PALOMAR SC | $18.95 |
| | LOVE & ROCKETS VOL 9 FLIES ON THE CEILING SC | $16.95 |
| | LOVE AND ROCKETS NEW STORIES TP VOL 01 (MR) | $14.99 |
| | LOVE AND ROCKETS NEW STORIES TP VOL 02 (MR) | $14.99 |
| | LOVE AND ROCKETS NEW STORIES TP VOL 03 (MR) | $14.99 |
| | LOVE AND ROCKETS NEW STORIES TP VOL 04 (MR) | $14.99 |
| | LOVE AND ROCKETS NEW STORIES TP VOL 05 | $14.99 |