Sneak Peek Inside Issue #2 of The Walking Dead, The Official Magazine
Oct 02, 2012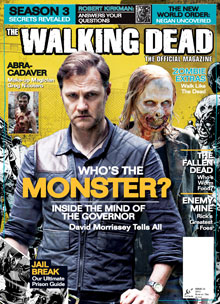 Newsstand Cover
David Morrissey spills the beans on playing The Governor, while Robert Kirkman reveals what to look forward to in the coming weeks

Following the announcement earlier this month that the hotly anticipated first issue of The Walking Dead, The Official Magazine is already one of Diamond's best selling magazines of all time, Titan Magazines and Skybound reveal what's inside the upcoming second issue.

Hitting stores on December 18, this 100-page issue dips another toe in the bloody waters of everything The Walking Dead, from the comic to the series and everything in-between: Creator/writer Robert Kirkman answers readers' questions and reveals what to look forward to in the coming weeks; The Governor himself, David Morrissey, reveals what it's like to play the villain; we interview make-up/SFX legend and co-executive producer Greg Nicotero; and, in the comics, we profile Rick's current nemesis, Negan, and pay our respects to those original survivors who are now worm food. We'll also have all the latest news, reviews and tips for The Walking Dead fans.

This issue comes with a main newsstand cover featuring David Morrissey as 'The Governor' and an alternative art cover by The Walking Dead comic artist Charlie Adlard, colored by The Walking Dead colorist Cliff Rathburn.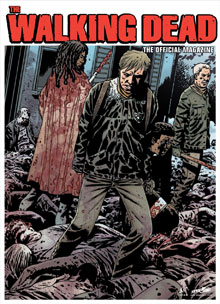 Alternative Art Cover
Fans of the show are urged to join The Walking Dead, The Official Magazine on Twitter and Facebook to keep up to date with exclusive developments and deals, or visit the magazine website and www.Skybound.com, the source for all news on The Walking Dead, Robert Kirkman and all Skybound titles.

The Walking Dead, The Official Magazine issue #2 will be available on newsstands and in comic book stores in the US on December 18, in the UK on December 27 and Australia & New Zealand on Feb 2.

For more information on The Walking Dead, The Official Magazine visit:

http://titanmagazines.com/t/the-walking-dead/