PREVIEWSworld Exclusive: When the Masks Come Off In Supurbia
Nov 21, 2012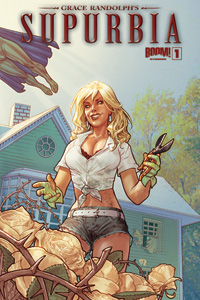 PREVIEWSworld presents this exclusive interview with writer Grace Randolph and artist Russell Dauterman, the creative team for BOOM! Studios' Supurbia. This new ongoing title focuses on life for crime-fighters once the capes come off, and life in the suburbs replaces problems with bad guys. It is a peek behind the curtain, and here in this interview both Grace and Russell explain the method behind the madness.
PREVIEWSworld: Grace, tell us how your mini-series turned into an ongoing series? Was it that there were a lot of loose ends you wanted to tie up from the last storyline? Or was it that you had many different stories left to tell?

Grace: Hmm, good question! Well, Supurbia as a mini-series wasn't so much a story with a beginning and an end, but a snapshot of the personal lives of superheroes and their loved ones. And just like real life, it was full of loose ends and there were certainly more stories to tell - which will always be the case because I'm striving to make Supurbia as realistic a take on superheroes and their loved ones as possible. So I'm thankful that readers sparked to this kind of story and want to continue looking in on this world. It's a stamp of approval that not just myself but the entire creative team working on Supurbia takes very seriously!

PREVIEWSworld: Grace, did you draw inspiration from works like J. Michael Straczynski's Rising Stars? Soap operas? Tell us what alchemy goes into making up your plots and characters.

Grace: The Real Housewives of Beverly Hills! I'd heard of the Real Housewives franchise before, but when this version debuted it was the first time I'd actually watched it. And as I watched the first episode, they showed commercials for the other versions, and I thought it was interesting how different cities resulted in such different shows. I thought it would be funny if there was a superhero version and then, as I thought about it more, I began to take the idea more seriously - which resulted in Supurbia! As for creating the world of Supurbia, my goal is to take comic book archetypes and not only try to approach them realistically, but to free them from the constraints that come from decades of continuity and corporate mandates.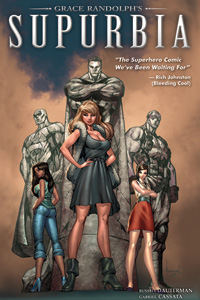 PREVIEWSworld: Russell, when you draw characters and scenes, is Grace specific about what she wants to see on the page, or does she encourage you take liberties to try new things?

Russell: The action is pretty well worked out in the script, but I do have a certain amount of creative license in terms of panel layout, camera angles, and the visual pacing of each page. Grace likes for a lot of story to be conveyed through facial expressions and body language as opposed to being told with dialogue, so her scripts are great at explaining what a character is thinking or feeling in each scene. That really helps me get into the character's head and figure out how best to portray those emotions.

PREVIEWSworld: What kind of comments have you both heard from your fans concerning this series? Have you taken any of these comments to heart, and maybe worked some of the suggestions into the new upcoming series?

Grace: I've found it very interesting how readers have already formed strong emotional connections with different characters. Supurbia is very character driven, so to see people picking favorites is wonderful! In fact, at every signing I've done, I like to ask readers which character they like the best. And that certainly does influence me! On the one hand, it lets me know which characters readers want to see more of - for instance, Batu and Jeremy's son Eli has certainly become a breakout star of the book and as a result he has a very juicy story-line in this first ongoing arc. On the other hand, if a character isn't getting a lot of love it lets me know I need to change it up. Look for that to happen with Tia in the second arc.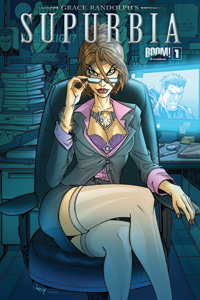 Russell: The comment I've heard most often is that fans really dig how diverse the book is. Supurbia has a fairly large cast made up of different ages, ethnicities, sexual orientations and personalities, not to mention female lead characters. That diversity seems to be resonating with people, which I'm super happy about. Visually, I've been trying to give all the characters unique looks that help convey their individuality. Grace has some really exciting things planned for the future of the series that highlight the uniqueness of the cast, which I'm pumped to draw.

PREVIEWSworld: If you both had the opportunity to explain your series to people unfamiliar with comics, what could you say to them that would make them want to read Supurbia?

Russell: I would say that you don't need to know anything about comics or have ever read a comic to enjoy Supurbia. This book is a drama-filled story about relationships and family, filled with backstabbing, intrigue and domestic disputes. Basically, Supurbia could be your new favorite soap opera - just with some superheroes added for extra spice.

Grace: If you like character driven television dramas like Mad Men or Boardwalk Empire, then I hope you'll give Supurbia a shot. And while you might not have been able to imagine yourself in the world of superheroes beforehand, I can assure you neither did many of the characters in Supurbia. Just like you are trying to build relationships, families, and careers - so are they, except they happen to be married to superheroes. I think that makes Supurbia both a relatable read and a fun one as well!
Title: Supurbia #1
Publisher: Boom! Studios
(W) Grace Randolph
(A) Russell Dauterman
(Cover) Stéphane Roux, Jonboy Meyers
Item Code: SEP120889
Price: $3.99
In Stores: 11/21/2012