Top 25 Toys: August 2012
Sep 10, 2012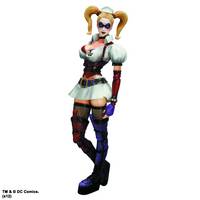 Warner Bros. Interactive Entertainment's Batman: Arkham Asylum is one of the most acclaimed video games of the last decade, and Square-Enix's rendition of the characters of the game gave the manufacturer the top two best-selling Toy products to speciality retailers in August, with the Batman: Arkham Asylum Play Arts ~Kai~: Harley Quinn Action Figure topping the chart, followed by the Armored Batman figure in second place.
Playmates' Teenage Mutant Ninja Turtles Retro Collector Action Figures ranked #3 for the month.
Diamond Select Toys had two products in the top ten — the Marvel Select: Avengers Movie: Enemy (Chitauri) Action Figure ranked #4. The Alice: The Madness Returns Select Action Figures, based on the new video game from American Magee, ranked #5.
DC Collectibles' top-selling product in August was the Batman: Black & White: Darwyn Cooke Statue at #6, followed by the Batman: Black & White: Dick Grayson by Jock at #8.
Also in the top ten were products from Kotobukiya (the Avengers Movie: Iron Man Mk. VII ArtFX Statue ranked #7), X-Plus USA (the Forbidden Planet: Robby the Robot 12-Inch Figure ranked #9), and Hasbro (the latest release of the Marvel Universe Action Figures ranked #10).
TOP 25 TOYS
Based on Total Retail Dollar Sales of Products Invoiced in August 2012
DOLLAR
RANK
QTY
RANK
ITEM
CODE
DESCRIPTION
VENDOR
1
2
JAN128132
BATMAN ARKHAM ASYLUM PLAY ARTS KAI HARLEY QUINN AF
SQU
2
3
JAN128131
BATMAN ARKHAM ASYLUM PLAY ARTS KAI ARM BATMAN AF
SQU
3
32
APR121769
TMNT RETRO COLLECTOR AF ASST
PLA
4
1
JAN121705
MARVEL SELECT AVENGERS MOVIE ENEMY AF
DST
5
30
JAN121700
ALICE MADNESS RETURNS SELECT AF ASST
DST
6
21
APR120307
BATMAN BLACK & WHITE STATUE DARWYN COOKE
DC
7
29
MAR121684
AVENGERS MOVIE IRON MAN MK VII ARTFX STATUE
KOT
8
18
MAY120346
BATMAN BLACK & WHITE STATUE DICK GRAYSON BY JOCK
DC
9
37
FEB121668
FORBIDDEN PLANET ROBBY THE ROBOT 12IN FIG
X P
10
53
JUN121848
MARVEL UNIVERSE AF ASST 201201
HAS
11
83
MAY121842
TMNT BASIC AF ASST 201201
PLA
12
23
FEB121624
MARVEL BLACK WIDOW BISHOUJO STATUE COVERT OPS VER
KOT
13
13
JUN098008
BACK TO THE FUTURE TIME MACHINE CAR
DST
14
4
DEC111596
MARVEL SELECT AVENGERS MOVIE HULK AF
DST
15
24
FEB121655
HALO PLAY ARTS KAI PX GOLD SPARTAN AF
SQU
16
69
APR111735
MARVEL X TOKIDOKI FRENZIES 30PC BMB DS
TOK
17
85
DEC111731
ROGUE STATUE
BOW
18
123
APR121779
THOR MOVIE HAMMER OF THOR PROP REPLICA
MUS
19
136
FEB121609
FANTASTIC FOUR STATUE 3-PACK
BOW
20
6
JUN128108
JUSTICE LEAGUE AQUAMAN AF WAVE 2
DC
21
94
DEC111732
MADELYNE PRYOR STATUE
BOW
22
5
DEC074356
MARVEL SELECT INCREDIBLE HULK AF
DST
23
93
JAN121771
MARVEL COMIC AF 2-PK ASST 201201
HAS
24
12
JUL118067
DOCTOR WHO WHITE DALEK PX TALKING PLUSH
UND
25
87
MAR121713
DOCTOR WHO MINI TALKING PLUSH 16PC DS
UND
This information may not be reproduced in any format without the express permission of Diamond Comic Distributors.
How does Diamond calculate the charts? It all starts at the comic book shop.
Data for Diamond's sales charts — which include the monthly market shares and all top product charts — are compiled by Diamond Comic Distributors from a universe of over 3,500 accounts, comprised of comic book specialty shops and other merchant stores and buyers. The shops are primarily located in North America, with a percentage of sales also to international stores and buyers located throughout the world. The account base includes not only brick-and-mortar comic book specialty shops, but also Internet stores, chain stores, and other specialty stores.
Unit and dollars sales are calculated based upon orders invoiced and shipped to Diamond accounts during any given month, minus any copies that are distributed free of cost.