Top 25 Toys: July 2012
Aug 06, 2012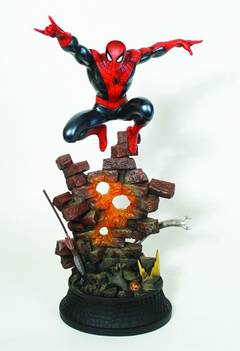 Bowen Designs' Spider-Man Action Statue, sculpted by Randy Bowen, was the best-selling toy product to comic book specialty retailers in July. Also in the top ten from Bowen Designs was the Juggernaut Statue, sculpted by Phil Ramirez, at #2.
Kotobukiya had three pieces in the top ten in July, led by the Marvel: Storm Bishoujo Statue at #3. The Classic Avengers: Iron Man Fine Art Statue ranked #8, followed by the Star Wars: Yoda "The Empire Strike Back" ArtFX Statue at #10.
DC Collectibles had two items in the top ten — the Justice League Wave 1: Green Lantern Action Figure at #4 and the Justice League Wave 2: Aquaman Action Figure at #9.
Also with two items in the top ten was Diamond Select Toys; the Marvel Select: Avengers Movie: Hawkeye Action Figure ranked #5 and the Marvel Select: Juggernaut Action Figure ranked #6.
Rounding out the top ten was Playmates with the Teenage Mutant Ninja Turles Retro Collector Action Figures at #7.
TOP 25 TOYS
Based on Total Retail Dollar Sales of Products Invoiced in July 2012
DOLLAR
RANK
QTY
RANK
ITEM
CODE
DESCRIPTION
VENDOR
1
23
JAN121830
SPIDER-MAN ACTION STATUE
BOW
2
32
FEB121611
JUGGERNAUT STATUE
BOW
3
14
JAN121846
MARVEL STORM BISHOUJO STATUE
KOT
4
1
MAY128124
JUSTICE LEAGUE GREEN LANTERN AF WAVE 1
DC
5
2
DEC111598
MARVEL SELECT AVENGERS MOVIE HAWKEYE AF
DST
6
3
JUN101512
MARVEL SELECT JUGGERNAUT AF
DST
7
55
APR121769
TMNT RETRO COLLECTOR AF ASST
PLA
8
51
DEC111751
IRON MAN CLASSIC AVENGERS FINE ART STATUE
KOT
9
6
MAY128125
JUSTICE LEAGUE AQUAMAN AF WAVE 2
DC
10
29
DEC111753
SW YODA ARTFX STATUE EMPIRE STRIKES BACK VER
KOT
11
4
DEC074356
MARVEL SELECT INCREDIBLE HULK AF
DST
12
7
AUG091437
MARVEL SELECT ABOMINATION AF
DST
13
74
NOV111584
SHANNA STATUE
BOW
14
26
APR120304
DARK KNIGHT RISES BATMAN 1/12 SCALE STATUE
DC
15
8
SEP091336
MARVEL SELECT THING AF
DST
16
40
JAN121838
FIREFLY LITTLE DAMN HEROES SERENITY MAQUETTE
QUA
17
9
SEP088069
MARVEL SELECT BROWN WOLVERINE AF
DST
18
85
MAY121902
SW ESB DARTH VADER STATUE
GEN
19
5
JAN101422
SW CLONE TROOPER BUST BANK
DST
20
28
APR120302
DARK KNIGHT RISES CATWOMAN 1/12 SCALE STATUE
DC
21
10
JUL091428
MARVEL SELECT SPIDER-MAN AF
DST
22
104
OCT088076
BTTF FLUX CAPACITOR UNLIMITED EDITION
DST
23
11
MAR121601
MARVEL SELECT AVENGERS MOVIE IRON MAN MK VI AF
DST
24
15
APR120309
JUST US LEAGUE SER 1 AQUAMAN AF
DC
25
12
JUN111758
STAR WARS COMMANDER CODY BUST BANK
DST
This information may not be reproduced in any format without the express permission of Diamond Comic Distributors.
How does Diamond calculate the charts? It all starts at the comic book shop.
Data for Diamond's sales charts — which include the monthly market shares and all top product charts — are compiled by Diamond Comic Distributors from a universe of over 3,500 accounts, comprised of comic book specialty shops and other merchant stores and buyers. The shops are primarily located in North America, with a percentage of sales also to international stores and buyers located throughout the world. The account base includes not only brick-and-mortar comic book specialty shops, but also Internet stores, chain stores, and other specialty stores.
Unit and dollars sales are calculated based upon orders invoiced and shipped to Diamond accounts during any given month, minus any copies that are distributed free of cost.