PREVIEWSworld Exclusive: An Interview With Sina Grace
Apr 17, 2012
Check out this exclusive video interview with Sina Grace, the artist for The Li'l Depressed Boy!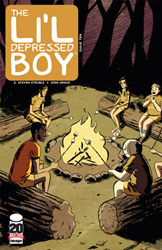 In other depressing news, Image Comics announces that "Li'l Depressed Boy" will take a trip to Camp Gambino in issue #10 of the series, featuring a special guest appearance by rapper Childish Gambino, who kicks off his much anticipated "Camp" tour with a string of sold-out shows.
A limited number of copies featuring an exclusive cover designed by The Li'l Depressed Boy artist Sina Grace will be available for purchase only on the Camp Tour starting in Iowa City on April 16th.

In the issue, a concert rekindles a memory of loneliness and a person who made a difference in Li'l Depressed Boy's life -- rapper Childish Gambino, who urges him to climb out of his cocoon and experience the world. The experience will lead Li'l Depressed Boy on a new path in his life, sending the comic series in a new direction. The appearance in the comic marks the first time a guest will participate in the actual narrative and not just as a setting.
"It's eerily alarming how much the themes in Childish Gambino's 'Camp' are going to play out not only in this issue, but the story arc to come," said artist Sina Grace.

"When I came across his music, it quickly ascended to the top of every playlist," said writer S. Steven Struble. "I feel a kinship with what he says in his songs. He's creating something earnest and true to his life, and I'm trying to do the same with mine."

As Grace simply puts it: "He loves the comics, we love the music, we wanted to make art together. His appearance is bringing the best out of both Struble and myself."

Initial solicitations of the issue featured a different cover and story summary from the issue's final incarnation. The Li'l Depressed Boy #10 will include additional story pages and will be in comics stores on April 25 and can be pre-ordered now with the Diamond item code NOV110460.
| | |
| --- | --- |
| | |

Camp Tour

April 18, Sacramento, CA at Ace of Spades (SOLD OUT)
April 19, Oakland, CA at Fox Theatre (SOLD OUT)
April 30, Sayreville, NJ at Starland Ballroom (SOLD OUT)
May 9, Chicago, IL at Riviera Theatre (SOLD OUT)
May 10, Minneapolis, MN at Epic
June 5, Denver, CO at Ogden Theatre
June 7, St Louis, MO at The Pageant
June 10, Atlanta, GA at The Tabernacle (SOLD OUT)
June 12, Orlando, FL at Hard Rock Live
June 13, Miami, FL at The Fillmore
June 15, Indianapolis, IN at Egyptian Room
June 16, Cleveland, OH at House of Blues
June 18, Pittsburg, PA at Stage AE
June 19, Buffalo, NY at Town Ballroom
June 21, Boston, MA at Bank of America Pavilion
June 22, Philadelphia, PA at River Stage at Penn's Landing
June 23, Baltimore, MD at Pier Six Pavilion
June 25, New York, NY at Central Park Summerstage (SOLD OUT)
July 25, Kansas City, MO at Beaumont Club
July 27, Asheville, NC at The Orange Peel
July 28, Charlotte, NC at Time Warner Cable Uptown Amphitheatre
July 29, Richmond, VA at The National (SOLD OUT)
July 31, Toronto, ON at Echo Beach
Aug 1, Montreal, QC at Metropolis
Aug 3, Detroit, MI at The Fillmore
###
Check out these Li'l Depressed Boy books that are in stock and ready to order at your local retailer!
| | | |
| --- | --- | --- |
| Code | Title | Price |
| | LIL DEPRESSED BOY #1 2ND PTG | $2.99 |
| | LIL DEPRESSED BOY #3 | $2.99 |
| | LIL DEPRESSED BOY #7 | $2.99 |
| | LIL DEPRESSED BOY TP VOL 00 | $9.99 |
| | LIL DEPRESSED BOY TP VOL 01 SHE IS STAGGERING | $9.99 |
| | LIL DEPRESSED BOY TP VOL 02 | $12.99 |