Michonne Featured In Walking Dead PX 2-Pack
Mar 26, 2012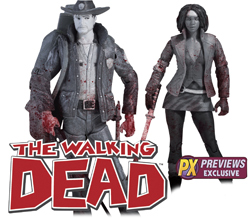 With civilization itself tottering after the outbreak of the zombie plague, former police offier Rick Grimes leads a group of survivors in search of shelter and safety as zombie hordes roam the countryside in Robert Kirkman's best-selling comic book, The Walking Dead, from Image Comics.
Fans of the series can add this PREVIEWS Exclusive Two-Pack to their collection with Officer Rick Grimes (includes bag of weapons) and Michonne (comes with sword and tools of revenge).
Each figure is highly articulated and features a sculpt based on the artwork from the best-selling series.

This black-&-white, blood-spattered variations of Officer Rick Grimes and Michonne has each of the sculpts based on art from the comic, plus their signature weapons and generous articulation.
The Walking Dead Series 1 Previews Exclusive Rick/Michonne Action Figure 2-Pack
Item Code: JAN120621
Price: $3.50
PREVIEWS Page #34
In Shops 4/25/2012