PREVIEWSworld FREE Weekly e-Newsletter
Dec 29, 2011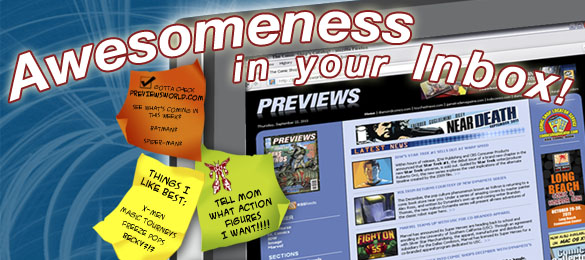 MOBILE-FRIENDLY!

JOIN NOW to receive the PREVIEWSworld Free Weekly e-Newsletter!
Be the first to see what new releases are coming to comic book shops,plus what's happening at your favorite online destination, PREVIEWSworld.com
Here's what you can expect from our weekly E-mail:
New Releases: what's on sale now in comic shops!
PREVIEWS Prevues: First look previews of upcoming book releases
Articles & Interviews: before they're posted anywhere else!
Exclusive Contests & Giveaways: Only for PREVIEWS e-newsletterr subscribers!
Every issue will bring you the joys and passions of comics and pop-culture -- right in your inbox! Each week!

Fill in your information below and click JOIN NOW to start receiving PREVIEWSworld Free Weekly e-Newsletter!