BOOM! Studios Launches Adventure Time Ongoing Series
Dec 27, 2011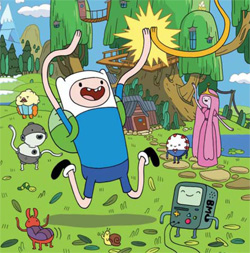 Press Release
Cartoon Network's smash hit animated comedy series Adventure Time is coming to BOOM! Studios' all-ages imprint KaBOOM! in an ongoing monthly comic book series featuring all-new original stories! Hold on to your swords! Adventure Time #1 ships this February.
The highly-anticipated first issue from the monthly series features a story written by Ryan North, author of the smash-hit webcomic Dinosaur Comics, and drawn by Shelli Paroline, the artist of Ice Age: Iced In and Muppet Snow White.
"It's quite exciting to bring this series to comics. My wife and I are huge fans and sing Marceline's 'Daddy, why'd you eat my fries?' song around the house all the time," BOOM! Studios Founder and Chief Executive Officer Ross Richie said. "Pendleton Ward has created a brilliantly original voice in this show and it's a true 'All Ages' property that appeals both to kids and also has a substantial amount of adult fans. Watch for the waving snail!"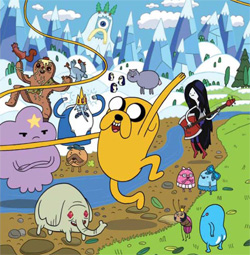 "It was like a bomb dropped in the office when we announced Adventure Time," says BOOM! Studios Editor-in-Chief Matt Gagnon.  "Everyone at BOOM! was just as excited as any fan. Adventure Time is such a classic story at its heart- a boy and his dog on different adventures – but the genius of the show allows us to take a simple concept and get really creative with the presentation. Everyone we've worked with is a huge fan of the show and creator Pen Ward has been instrumental in bringing this comic book to life. "
The Adventure Time comic series will follow Finn the Human, Jake the Dog, Princess Bubblegum and the other inhabitants of the Land of Ooo as they explore many varied adventures. Since its debut on Cartoon Network, Adventure Time has become a runaway hit, with explosive growth in ratings, huge critical and fan acclaim, a major presence at fan conventions and more, it's clear fandom is obsessed and 2012 is the Year of Adventure Time!
Check out Adventure Time on Cartoon Network's web site.