When a new item's so hot it can't wait to be solicited in the next issue of PREVIEWS, you'll find it here in PREVIEWS Plus!
Order anything listed in this week's PREVIEWS Plus from your favorite comic book shop today! We also offer PDF of this week's PREVIEWS Plus with a handy order form, download here!
The following items are being offered for the first time unless marked O/A (Offered Again). If you're interested in purchasing one of these items, please give your local comic book shop the listed item code by Monday, March 26, 2012.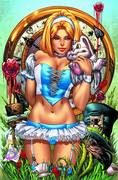 (W) Raven Gregory (A) TBD (CA) Eric Basaldua
From Zenescope Entertainment. Second Printing of the sold-out debut! Decades ago, a girl named Alice was sacrificed into the horror-filled realm of Wonderland but her terrifying and awe-inspiring e...
>>
Publisher: ZENESCOPE ENTERTAINMENT INC
Item Code: FEB128088
In Shops: 5/30/2012
SRP: $2.99
(W) John Ostrander (A/CA) Jan Duursema
From Dark Horse Comics. It began with the mysterious pyramid ships - the Tho Yor - scattered to the eight corners of the galaxy, and ended with the establishment of an Order that would change the u...
>>
Publisher: DARK HORSE COMICS
Item Code: FEB128143
In Shops: 4/18/2012
SRP: $3.50
(W) John Ostrander (A) Dan Parsons (CA) Jan Duursema
From Dark Horse Comics. On the planet Tython, in the center of the galaxy, an order of warrior monks strives to maintain peace and to balance the mysterious power known as the Force. But a stranger...
>>
Publisher: DARK HORSE COMICS
Item Code: FEB128144
In Shops: 4/18/2012
SRP: $3.50