In Comic Shops 8/6/2014: X-O Manowar — Volume 6: Prelude To Armor Hunters TP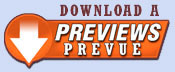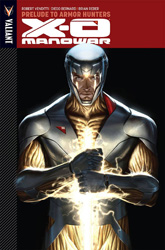 Publisher: Valiant Entertainment

(W) Robert Venditti & Various
(A) Diego Bernard & Various
(Cover) Jelena Kevic-Djurdjevic
Aric of Dacia, a fifth-century warrior bonded to alien armor and transplanted to the modern day, is now the most important weapon in the arsenal of M.E.R.O., the top-secret American intelligence organization that monitors extraterrestrial life on Earth. In order to protect his people, Aric must undergo dangerous missions in space, but nothing can prepare him for the stunning secret that awaits him in the stars. Collecting X-O Manowar #23-24 and the oversized X-O Manowar #25 anniversary spectacular, the march toward Armor Hunters begins here.
---
Item Code: JUN141513 In Shops: 8/6/2014 Price: $14.99

---
Are you following PREVIEWSWorld on Twitter yet?