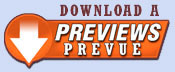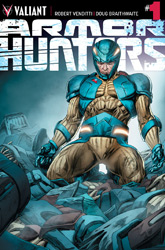 Publisher: Valiant Entertainment

(W) Robert Venditti
(A) Doug Braithwaite
(Cover) Jorge Molina
This summer, Earth will be the greatest hunt of all when Valiant First unleashes the first issue of 2014's must-read crossover event - Armor Hunters - from superstar creators Robert Venditti and Doug Braithwaite! A relentless and surgical strike team from the farthest reaches of space - sworn to exterminate the X-O Manowar armor and all like it - have found finally their final target. They will hunt. They will trap. They will kill. And they will rid the universe of the X-O Manowar's incalculable destructive power...even if it means taking the Earth with it.
---
Item Code: APR141409 In Shops: 6/11/2014 Price: $3.99

---
Are you following PREVIEWSWorld on Twitter yet?