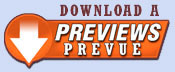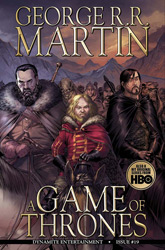 Publisher: Dynamite Entertainment

(W) George R. R. Martin, Daniel Abraham
(A) Tommy Patterson
(CA) Mike S. Miller
The critically acclaimed adaptation of George R.R. Martin's sweeping epic! Tyrion, under escort by a savage clan of warriors (and in a precarious position of being both their leader and their hostage) reunites with his father. Soon after, Tywin vows to uphold Tyrion's promises to the clans . . . provided they fight for him against the army of Robb Stark! Mature Readers.
---
Item Code: JUL131009 In Shops: 3/26/2014 Price: $3.99

---
Are you following PREVIEWSWorld on Twitter yet?