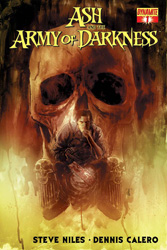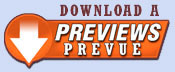 Publisher: Dynamite Entertainment

(W) Steve Niles
(A) Dennis Calero
(Cover) Ben Templesmith
The battle has been fought and won. Ash battled and defeated the Deadite image of himself and saved the world. Now all he wants to do is get home a have a normal life. Too bad he messed up the Book of Dead incantation! New series. New start. Will Ash ever escape the land of the Deadites? Will he ever find his girl? Will he ever remember the last part of the incantation? Now an army of unbelievable horrors rules the land… and only Ash can annoy them.
---
Item Code: SEP131050 In Shops: 10/30/2013 Price: $3.99

---
Are you following PREVIEWSWorld on Twitter yet?