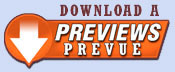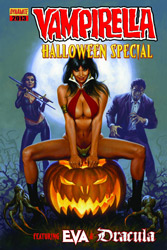 Publisher: Dynamite Entertainment

(W) Shannon Eric Denton
(A) Dietrich Smith
(Cover) Joe Jusko
Vampirella once again joins forces with Dracula and Eva in order to confront a Doomsday Cult intent on releasing one of the Ancient Ones back upon the Earth. The trio, empowered from their previous successes, will confront these evil forces head on! These three warriors race from threat to threat in order to stop the apocalypse but will learn that even their immense power may not be enough.
---
Item Code: AUG131212 In Shops: 10/23/2013 Price: $4.99

---
Are you following PREVIEWSWorld on Twitter yet?