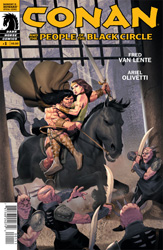 Publisher: Dark Horse Comics
(W) Fred Van Lente
(A/Cover) Ariel Olivetti

Two of the hottest names in comics-writer Fred Van Lente and artist Ariel Olivetti-reunite for a brutal Conan epic like no other!

Assassins, dark magic, and a beautiful noblewoman mean trouble for the Cimmerian barbarian unlike he's ever seen in this full-tilt escapade through the mountains of Afghulistan!
---
Item Code: AUG130074 In Shops: 10/23/2013 Price: $3.50

---
Are you following PREVIEWSWorld on Twitter yet?