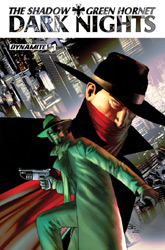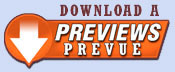 Publisher: Dynamite Entertainment

(W) Michael Uslan
(A) Bilquis Evely
(Cover) John Cassaday
A threat so titanic that it forces The Shadow to team-up with The Green Hornet! A plot so deadly that it involves real events in history and such famous and infamous people as Woodrow Wilson, Rasputin, J. Edgar Hoover, Franklin D. Roosevelt, and Nikola Tesla! An unstoppable power will plunge the world into darkness... and no one but our two crime-fighting icons can stop it! Written by Michael Uslan, the originator and Executive Producer of the Batman movie franchise, including The Dark Knight trilogy.
---
Item Code: MAY131009 In Shops: 7/10/2013 Price: $3.99

---
Are you following PREVIEWSWorld on Twitter yet?