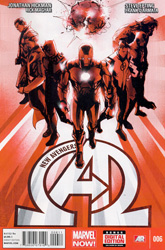 Publisher: Marvel Comics
(W) Jonathan Hickman
(A) Steve Epting
(Cover) Jock
"BLUE." Using the knowledge gained from the Black Swan, the Illuminati rework all their plans and cross the uncrossable line. The first secret alliance is formed. If an incursion is normally RED, what does a BLUE one mean?
---
Item Code: MAR130633 In Shops: 5/29/2013 Price: $3.99

---
Are you following PREVIEWSWorld on Twitter yet?