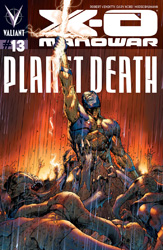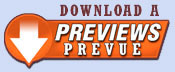 Publisher: Valiant Entertainment

(W) Robert Venditti
(A) Cary Nord
(Cover) Trevor Hairsine
Part III of the explosive Planet Death mega-event! Aric discovers the Vine he intends to conquer aren't the only race on planet Loam, but will these surprise inhabitants offer him refuge or rivalry? Meanwhile, the Vine leaders plan their most devastating attack yet, one that will push the X-O Manowar armor to its limits and beyond. The stakes are raised and the table set for the epic battle from which no one — human or Vine —will emerge unchanged.
---
Item Code: MAR131330 In Shops: 5/15/2013 Price: $3.99

---
Are you following PREVIEWSWorld on Twitter yet?