In Comic Shops 10/17/2012: B.P.R.D. 1948 #1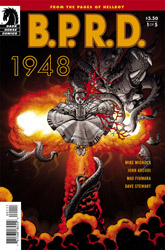 Publisher: Dark Horse Comics


(W) Mike Mignola, John Arcudi
(A) Max Fiumara
(Cover) Dave Stewart, Dave Johnson
The Nazi occult bureau threatened to destroy the peace that followed the end of World War II.
One year after the war, Professor Bruttenholm, guardian of the child Hellboy, enlisted a special task force to connect the dots between a series of massacres and a mad vampire nobleman.
Now the B.P.R.D. launches an investigation of an atomic-fueled space-travel experiment that's apparently unleashed horrific monsters in the Utah desert.
---
Item Code: AUG120060 In Shops: 10/17/2012 Price: $3.50
---
Are you following PREVIEWSWorld on Twitter yet?