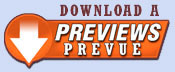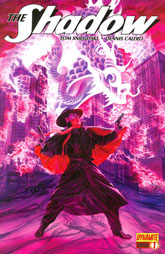 Publisher: Dynamite Entertainment

(W) Tom Sniegoski
(A) Dennis Calero
(Cover) Alex Ross

The Shadow is plagued by visions of New York City plagued by living fire-fire in the shape of a Chinese dragon-fire with the potential to spread hungrily to the world. But what do these visions mean? The Shadow will peel back the layers of mystery, leading to a confrontation that could very well shake the pillars of Heaven. Who are the waifs of Li-Lung, and what are their connections to Brother Pritchard's Orphanage for Wayward Children, and to crime boss on the rise, Vincent Ruzzo?



---
Item Code: JUL120951 In Shops: 9/26/2012 Price: $4.99
---
Are you following PREVIEWSWorld on Twitter yet?