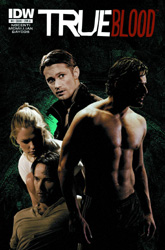 Publisher: IDW Publishing


(W) Ann Nocenti, Michael McMillian
(A) Michael Gaydos
(Cover) Tim Bradstreet, Photo
Alan Ball's hit HBO series continues its ongoing comic tale. Learn what happened to your favorite characters on the night vampires revealed their existence to the world, with this issue focusing on Alcide.
---
Item Code: JUN120399 In Shops: 9/5/2012 Price: $3.99
---
Are you following PREVIEWSWorld on Twitter yet?