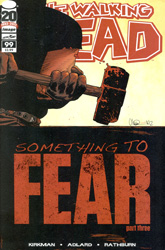 Publisher: Image Comics
(W) Robert Kirkman
(A/Cover) Charlie Adlard, Cliff Rathburn

"Something to Fear" continues.
The unthinkable happens, and its time to gear up for next month's monumental issue 100! The question is, now that Abraham's dead what other surprises are down the road?
Are Andrea and Rick doomed before they can even start? And how does Carl feel about Dad's new romance?

Item Code: APR120563
Price:$2.99
PREVIEWS Page #217
In Shops 6/20/2012
Are you following PREVIEWSWorld on Twitter yet?