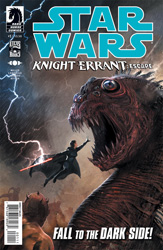 Publisher: Dark Horse Comics
(W) John Jackson Miller
(A) Marco Castiello, Vincenzo Acunzo
(Cover) Michael Atiyeh, Benjamin Carre
Jedi Knight Kerra Holt's next mission starts with a very personal and ultrasecret investigation! But with the dark realities of Sith territory surrounding her, something unexpected may be taking hold of the lone Jedi! As she takes the first step toward her goal, Kerra knows there will be no turning back!

Item Code: APR120036
Price: $3.50
PREVIEWS Page #54
In Shops 6/13/2012
Are you following PREVIEWSWorld on Twitter yet?