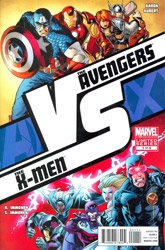 Publisher: Marvel Comics

(W) Jason Aaron, Kathryn Immonen
(A) Adam Kubert, Stuart Immonen
(CA) Adam Kubert

The premier tie-in to The Avengers vs. The X-men!
All-out action featuring cover to cover battles, each issue expanding on fights from the main AVX book in ways you can't imagine!
This issue: Iron Man vs. Magneto and Thing vs. Namor!

Item Code: FEB120531
Price: $3.99
MARVEL PREVIEWS Page #1
In Shops 4/25/2012
Are you following PREVIEWSWorld on Twitter yet?