The longtime writer of Top Cow's Witchblade, Ron Marz has also been behind its most recent, best-selling event comics, including Broken Trinity and First Born. This summer, the scribe shakes things up in the Top Cow Universe again with his Artifacts storyline.
For Free Comic Book Day, Silver sponsor Top Cow gives readers a taste of things to come with Artifacts: First Look, and Marz recently gave Freecomicbookday.com insight into the FCBD, the greater storyline it's tied to, and much more in an exclusive interview.
_____________________________________________________________________________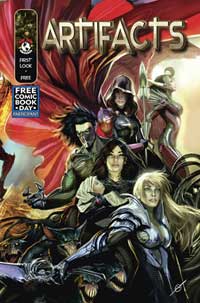 Freecomicbookday.com: Set your project up for those that might not know much about it. What can we expect to see in terms of story and art?

Marz: This year's FCBD offering is a lead-in to the Artifacts storyline, which is the biggest series Top Cow has ever done. Artifacts #1 debuts in July, so the FCBD book introduces the main concepts and characters that will appear in the series. The issue is written by me, with art by my Witchblade partner, Stjepan Sejic. The point-of-view character in the issue is Aphrodite IV, who will play a large role in Artifacts, especially issue #1. The FCBD issue will also contain interviews and text pieces about Artifacts. 

Freecomicbookday.com: You've been a creative mastermind behind epic Top Cow stories like "War of the Witchblades," First Born, and Broken Trinity, and it seems like each event builds off the last and in turn has been building towards something. Is this what you've been building towards since becoming the regular Witchblade writer? 
Marz: Well, if I said yes, it wouldn't be quite true, and if I said no, that wouldn't be quite true either. When I took over Witchblade, I just wanted to make sure it was a good book. But the longer I stayed on the title, the bigger the story ideas got, eventually leading to First Born, Broken Trinity and now the Angelus series. Each project organically led to the next, and a lot of it culminates in Artifacts.
 
Freecomicbookday.com: For those that haven't followed the stories that have come before Artifacts, what will they need to know coming into this FCBD book and then the series? Will this FCBD book help fill them in on anything they might need/want to know?

Marz: That's truthfully exactly what the FCBD book is designed to do. It really serves as a prequel to Artifacts, and the story conveys a lot of information about the Top Cow Universe in general and the 13 Artifacts in particular. I try to make sure that stories like Broken Trinity and First Born stand on their own, and don't require the reader to bring any previous knowledge with them. Artifacts will be the same. Everything you need to know will be in the issues themselves. 


Freecomicbookday.com: With so many characters part of this shared universe, do you have a favorite to write?

Marz: I've written more than 50 consecutive issues of Witchblade, so obviously Sara Pezzini is pretty comfortable for me. And I'm just a few issues into Magdalena, which debuts in April, but I like Patience a great deal already.


Freecomicbookday.com: What do you think will make Artifacts stand out from other books in shops?

Marz: Marvel and DC have obviously been doing big event projects almost non-stop for the last few years. But ultimately, not much changes in a superhero universe. As much as you hear "Nothing will ever be the same!" it almost always is. Things go back to status quo eventually. We don't have to do that with Artifacts. We can make lasting changes to the characters and to the universe, and that's exactly what we're going to do. If somebody dies, that person stays dead. In fact, somebody dies in Artifacts #1. When we say "Nothing will ever be the same!" we mean it.
Freecomicbookday.com: What's your favorite part about being able to work in comics?

Marz: I make up stuff and get paid for it. What could be better than that?


Freecomicbookday.com: Why do you think FCBD is so vital to the industry?

Marz: It's the outreach aspect of it. I think comics in general do way too much preaching to the converted, putting out products that appeal mostly to the existing readership. FCBD is one of the few large-scale attempts to interest new readers in comics and bring more people into the clubhouse. If we just cater to the present audience, all this slowly goes away. A lot more books need to be written and drawn as if they're FCBD offerings.


Freecomicbookday.com: Since FCBD has now been a yearly event since 2002, do you, your friends and/or your family have any annual FCBD traditions?

Marz: My family usually waves and says, "See you later" because I'm usually off signing somewhere. The last few years have been local, but this year I'm going out of state to appear in Boston with New England Comics.


Freecomicbookday.com: What's the biggest challenge when creating a FCBD book as opposed to a standard comic? Do you have to approach it differently knowing you might have a broader audience?

Marz: I'm a big proponent of making sure my books are accessible to new readers all the time. For FCBD, it's that sensibility times ten. I look at it as the best opportunity all year to hook a new reader, so the story needs to be easily understood, and compelling both visually and dramatically.
 
Freecomicbookday.com: Knowing that so many readers are sure to pick up the issue, does that put more pressure on you, or is that something that gets you more excited about what you're working on?

Marz: That kind of pressure should be there all the time, whether somebody's getting the issue for free, or plunking down their money for it. If someone is investing time and money in your book, or even just time, I think you owe them your best effort. I don't think creators should pander to the audience, but I do think we should do our best to entertain the audience. 
Freecomicbookday.com: In the spirit of potential newcomers picking up comics, what was the first comic you remember reading or that inspired you to get involved in the industry?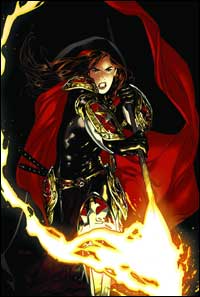 Marz: I'm not sure I remember the first actual comic I saw, but I do know it would've been an early Marvel book, something from the early to mid-'60s. My older brother had a box of old comics in the basement, and I discovered them at a very early age. So I was looking at Kirby Fantastic Four issues and Ditko Spider-Man issues before I could even read. As far as a book that inspired me to want to do this, it was probably Dark Knight Returns #1. The story and format exposed me to what was possible in this medium. 

Freecomicbookday.com: What comic(s) and/or graphic novel(s) would you recommend to someone that enjoys your FCBD book and is looking for something like it to read next?

Marz: The Witchblade Vol. 1 TPB is an absolute ground-floor read, and it's six issues for a mere $4.99. Magdalena #1 (shown left) will hit stands just before FCBD, and that's a completely accessible issue as well. And if I can be a little self-serving, Samurai: Heaven and Earth Vol. 1 is my creator-owned book from Dark Horse, and maybe my favorite story I've ever written.
_____________________________________________________________________________
Be sure to visit Freecomicbookday.com often to check out previews of this year's books and to learn more about our FCBD Sponsors, what merchandise and downloads are available this year, where favorite creators will be showing up for signings, and much more. You can also follow all the latest FCBD news on Facebook and Twitter.