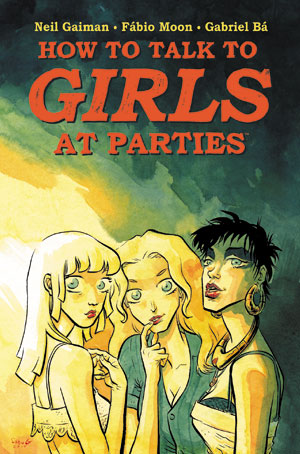 Neil Gaiman, the acclaimed author of The Sandman, American Gods, and Neverwhere, has penned over a hundred short stories in his career.
One of those stories, "How to Talk to Girls at Parties," explores the anticipation, excitement, anxiousness, and dismay that teenagers (and, to be fair, adults) often feel in unexpected social settings, especially those filled with strangers, particularly strangers in whom a person may feel the first pinprick of attraction, strangers who may look human but may as well be aliens.
This spring, Fabio Moon and Gabriel Ba adapt Gaiman's short story for a new graphic novel from Dark Horse Comics.
Capturing the rush of emotions that one feels in an awkward social setting where chatting up an attractive girl is both desirable yet terrifying, How to Talk to Girls at Parties (FEB160019) lovingly and tenderly recreates the gentle lyricism of Gaiman's short story and brings this tale to a new audience!
Look for How to Talk to Girls at Parties (FEB160019) from Dark Horse Comics in the February issue of the PREVIEWS catalog!