32 Were Chosen. 31 Will Die.

Beginning this December, BOOM! Studios and Paul Jenkins are thrilled to bring you an all-original, dark, psychological deconstruction of the superhero genre in the vein of IRREDEEMABLE and INCORRUPTIBLE with – DEATHMATCH!

A powerful and mysterious supervillain has imprisoned the world's greatest superheroes, forcing them to fight to the death until there is but one victor. It's kill or be killed as we settle the score on all those hypothetical superhero match-ups in this new ongoing series by Jenkins (SENTRY, INHUMANS) and artist Carlos Magno (PLANET OF THE APES) with covers by Whilce Portacio (WETWORKS, INCREDIBLE HULK). The first full issue is just $1 and will be in stores on December 26th, with only a handful of other titles!

Just as exciting is BOOM! Studios' innovative consumer engagement program – the DEATHMATCH DEATH DRAFT. You've had endless "Who is stronger?" "Who is faster?" "Who is the best at what he/she does?" match-up conversations for years in your local comic shop, friends' houses, & on the convention floor. The DDD wants you to use your knowledge of superhero archtypes to predict the outcome of each issue's primary deathmatch and reward you for participating.

Here's How It Works:
Beginning in November, BleedingCool.com (a DDD sponsor) will spotlight DEATHMATCH and each individual character, in conjunction with BOOM! Studios. Characters will be introduced through profile page entries detailing their histories, powers, origins and other key pieces of information. Each month, prior to the new issue coming out, Bleeding Cool will reveal the primary deathmatch along with profiles of the two participating characters with their key characteristic and powers. Fans will be able to post their predictions for the winner of the deathmatch on a dedicated Bleeding Cool message board thread. If you correctly predict the outcome of every deathmatch throughout the course of the series, you will be rewarded with a truly exclusive item at the end of the series (along with your favorite comic shop).

Here's How You Can Participate at Your Local Comic Shop:
Participating DEATHMATCH DEATH DRAFT retailers (check to see if your store is participating) will receive a DEATHMATCH promo kit along with the first issue. As part of this promo kit, you'll be able to get an 11" x 17" poster featuring the stunning gatefold Carlos Magno incentive cover art from issue #1 on one side and a blank tournament bracket on the other. As the series comes out, you can fill in your predictions or track the results on this unique memento. Particpating retailers will also have access to order the exclusive "Pre-Order Morgue" variant cover. These "Pre-Order Morgue" variants will feature the character killed in the deathmatch of that issue and are sure to be sought-after chase items. Check with your local comic shop to see if and how they are participating in the DEATHMATCH DEATH DRAFT and get in on the action!

You can pre-order DEATHMATCH #1 at your local comic shop! Item code: OCT120874.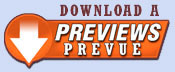 Are you following PREVIEWSWorld on Twitter yet?