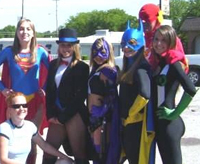 Ramiro Espinosa turned personal tragedy into triumph when, in honor of his son, he helped form Heroes For Him which brings costumed adults into the lives of kids to provide them with good role models.
For the 12th consecutive year, Ramiro and his wife Diana will be bringing their costumed volunteers to the Texas State Fair to meet with kids at attractions like a fire truck, and Crime Prevention booth. At these locations the heroes talk to kids about staying safe. Volunteers dressed up like Captain America, Batman, Superman, and the X-Men (to name a few), also hand out comic books to kids to encourage them to read. And to make the gifts all the more "collectible," the heroes sign the comics for the kids.
If you would like to donate comics to Heroes for Him, you can contact representatives at the Texas State Fair for your contribution.
Hats off to the heroes that make their appearance this year, October 5th.