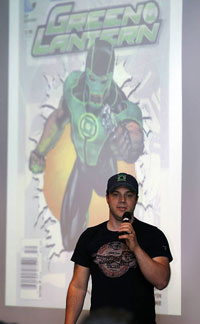 In celebration of the recent introduction of the first Arab American Green Lantern, Simon Baz, Geoff Johns led a "creation of a super hero" session with kids and young teens where he highlighted the basics of comic book development.

The event took place on Saturday at the Arab American National Museum (AANM) in Dearborn, MI.

The group created a super hero character together, complete with character background, a super villain and a sidekick. Geoff then greeted each young fan and signed comics for the group.

Later in the afternoon, community members and comics fans gathered in the museum's theater where Geoff led a presentation on his career and how he got into comics. The lecture ended with a Q & A session.

Here are some photos of the event courtesy of Gary Malerba/Invision by AP Images.