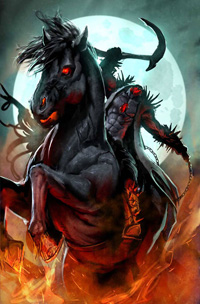 Dan Wickline has just wrapped up his Call Of Wonderland series at Zenescope, and is now talking about his new Sleepy Hollow series set to debut in October from the publisher. In this exclusive interview, Dan reflects on how he approached taking on a literary classic.
PREVIEWSWORLD: Dan, with the legend of Sleepy Hollow having such a long history and impact in both literature and cinema, what kind of approach did you take towards the material in drafting your pitch for the book?
DAN WICKLINE: I'm not sure if people realize just how much of modern horror is based on Sleepy Hollow. The theme of an already weak individual being abused by his peers or society before metamorphosizing into an unstoppable killing machine is used all over the genre. But because the theme is so widely accepted, often times the things you really want in a story get pushed aside and we are rushed into the violence and gore. Here we wanted to do something that was more than just slaughtering random campers at a lake. We are putting together fully realized characters that the reader will come to like or hate, characters that you want to see more of… and then we'll kill them all.
PREVIEWSWORLD: Have you put any of your own personal fears into the characters, or transferred personalities of those you know into Sleepy Hollow's citizens?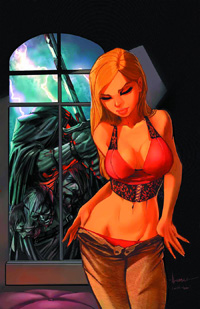 DAN WICKLINE: Funny you should ask that question. I have done the personal fears thing previously (Wonderland Annual 2009) and I have used people I know as minor characters in the past, but this time I went further. I needed the relationship between the main character and his girlfriend to be fun, witty, and obvious they care about each other, and I had to do it quickly. So I based the girlfriend off of my best friend of twenty-six years, Lisa, and I wrote the dialogue for her and the lead character as if it was a conversation between us. After turning the script in I got a call from my editor Raven Gregory who not only seemed to love the girlfriend character, he was quoting some of her lines back to me and laughing saying we need to see more of her. So I think it may have worked.
PREVIEWSWORLD: Can readers expect a more suspenseful story, or have you decided that more individuals should be met with hack-and-slash consequences?
DAN WICKLINE: There is definitely a mystery and lots of suspense here. That's kind of my thing when it comes to horror. Having worked with Steve Niles in the past, he's great at the 'kill them all and let God sort them out' type of plots and made his mark with the original 30 Days of Night. When I got onto the series later, first co-writing then doing a series on my own, I bought more of an X-Files mystery vibe because that's how my brain seems to work. Raven says I do the "slow build horror" and this story is no different. It's got a plot within a plot going on, flashbacks, and many different level of intrigue. It's definitely not a 'he lost his head now he's killing everyone' tale... well, at least not below the surface.
PREVIEWSWORLD: What is the appeal to writing horror stories? Do you feel they better expose individuals and who they are at their core when they're met with life and death challenges?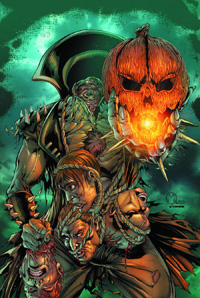 DAN WICKLINE: It's funny, I never think of myself as writing horror. Unlike a lot of storytellers in this genre, I didn't grow up as a fan. My wife, Debbie, can't get enough horror. Our first date was to see Halloween IV… but overall she is the fright fanatic and I'm not. So when I sit down to tell a story it's all about characters and situations. If you get to know your characters well enough and then put them in a scary situation… writing their natural reaction to the terror, the loss of control, etc… that becomes your story. Similarly to writing a mystery; strong characters that are put into a dangerous situation they must solve is compelling, but it's the characters reactions that make it a good read. Take a handful of characters the reader cares about, and throw them into a shocking but somewhat believable scenario with a massive amount of tension, and you have a very scary story.
PREVIEWSWORLD: How was working on Call of Wonderland different from writing Sleepy Hollow? Did you have to put your mind in different place when it came to harnessing the "gloom" factor for Sleepy Hollow?
DAN WICKLINE: Well, the obvious answer is with Call of Wonderland I was basically playing with someone else's toys, and though I got to bring some of my own to the party, I had to respect what was already there. Here I have complete freedom to do as I want with the characters, and with it being an established and familiar tale; I can use that to my advantage when I do go off the rails so to speak. And with the first issue, I get to set the mood of the story in one direction before slamming it into a very different and dark place. This is going to be a very twisted roller coaster ride… and after that slow initial climb to the top of the ride, it's going to be a non-stop rush to the ending.