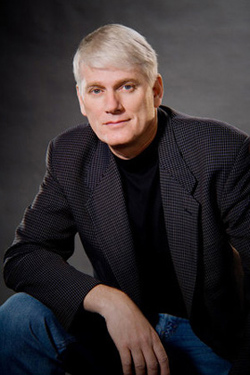 What are your favorite projects you've contributed to over the past decade?

Working with staff and creators on the comics at Dark Horse, reviving Dark Horse Presents. and working on the Hellboy films with Mike, Guillermo, and Larry Gordon. Also, working with my buddies John Landis and Bob Engleman on our Emmy-winning Don Rickles documentary. Oh, and shooting My Name is Bruce with Bruce Campbell and Mark Verhieden on Bruce's property in Southern Oregon. Most recently, shooting RIPD in Boston with Jeff Bridges and Ryan Reynolds.

What are your favorite indie books?

Chew (FEB120425) by John Laymen and Rob Gillory. A really fun and interesting premise. A psychic cop who gets his leads by chewing on things . . . like human body parts.

The Walking Dead (APR120487). Robert Kirkman has taken the well-traveled elements of the traditional zombie tale and turned them into something that sustains interest and . . . most surprisingly . . . feels fresh.

B.P.R.D. (APR120025). Mike Mignola and John Arcudi take us to strange places with their odd team of Paranormal warriors. Weird, creepy, and never predictable.

Plus,

Beasts of Burden. Evan Dorkin and Jill Thompson (JUN120009)
Milk & Cheese. Evan Dorkin. (AUG110049)
Mouse Guard (APR108121)
Simpsons Comics (JAN120926)
Atomic Robo (JAN121241)

Also, I need to mention the archive editions of Creepy, Eerie, and the EC horror titles. These books include the works of some of the most respected creators in the field featuring some of the greatest horror stories ever done for comics.

What titles that you've worked would like to call out?

My titles? The Secret (JUL070026). A creepy story that has more in common with Hitchcock than the current slasher projects. The motion comic version is on You-Tube right now. Also, Living With the Dead (DEC070043), a fun twist on zombie comics and films. Then there's "Gone," a unsettling short story I did with P. Craig Russell for the Dark Horse Book of Hauntings (STAR19413). And, of course, Star Wars: Crimson Empire (MAR128225), as I just finished the third installment of the exploits of a member of Palpatine's Royal Guard.