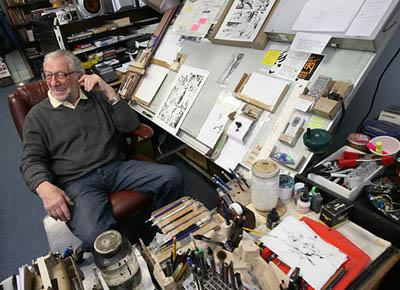 On Sunday, August 12, comic book legend, innovator and teacher Joe Kubert died at the age of 85. Beginning his career at the tender age of 12, he spent most of his career as an artist for DC Comics where he went on to create such classic characters as Sgt. Rock, Tor and Hawkman. His style helped define war comics and has served as an inspiration for many artists that have followed in his footsteps, including his sons, Andy and Adam Kubert.

In addition to his creative works, after finishing his 1967-1976 stint as the Director of Publications at DC, Kubert founded the Joe Kubert School of Cartoon and Graphic Art in Dover, NJ in 1976 -- one of the finest educational opportunities in the country for graphic and comic book artists. Alumni include Amanda Conner, Stephen Bissette, Alex Maleev, Shane Davis, Rags Morales, and many other greats.

"If it seems that Joe Kubert's work has always been a part of our lives, that's because for almost all of us it has. His dedication to his craft, his instruction of others, and his expectation of excellence have created so many examples of what comic book art can be that there would never be enough time to repay him for what he has given us," said Diamond Comic Distributors President and CEO Steve Geppi. "My condolences to his children, Andy, Adam, David, Danny, and Lisa, to his friends, colleagues and many fans."

"We are saddened to learn of the death of our colleague and friend Joe Kubert," the DC Entertainment Executive Team said collectively via The Source. "An absolute legend in the industry, his legacy will not only live on with his sons, but with the many artists who have passed through the storied halls of his celebrated school. His latest work on Before Watchmen: Nite Owl was among his best, and we are so honored to have worked side-by-side with such an unforgettable force in both comics and in life."

Of his life, Kubert previously said, "I was, and still am, the luckiest person in the world."

At the time of his passing, Joe Kubert had just recently completed working with his son Andy Kubert on DC's Before Watchmen: Nite Owl, and DC also announced in August's PREVIEWS an upcoming collection of his stories for the six issue run of Joe Kubert Presents.