Could Batman patent the Batmobile? Does the Second Amendment apply to Wolverine's claws? In Gotham Books' The Law of Superheroes authors and attorneys James Daily and Ryan Davidson tackle these and many more questions in a unique look at comic books and the legal system. Using the world of comics, Daily and Davidson explain many legal concepts, from constitutional law to intellectual property and everything in-between, for every comic book reader.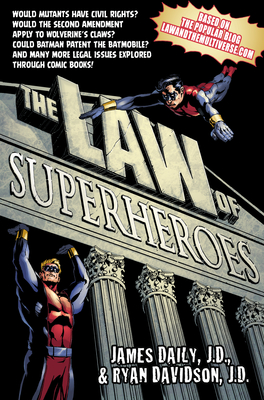 The Law of Superheroes
James Daily and Ryan Davidson
Gotham Books
JUL121366, $26.00
Daily and Davidson, the authors behind the website Law and the Multiverse use The Law of Superheroes the hypothetical legal ramifications of comic book tropes, characters, and powers down to the most deliciously trivial detail. Arriving in stores in October, The Law of Superheroes asks and answers crucial speculative questions about everything from constitutional law and criminal procedure to taxation, intellectual property, and torts, including:
Could Superman sue if someone exposed his true identity as Clark Kent?
Are members of the Legion of Doom vulnerable to prosecution under RICO?
Do the heirs of a superhero who comes back from the dead get to keep their inherited property after their loved one is resurrected?
Does it constitute "cruel and unusual punishment" to sentence an immortal like Apocalypse to life in prison without the possibility of parole?
Engaging, accessible, and teaching readers about the law through fun hypotheticals, The Law of Superheroes is a must-have for legal experts, comic nerds, and anyone who will ever be called upon to practice law in the comic multiverse.
PREVIEWS spoke recently with authors Daily and Davidson about The Law of Superheroes, the issues the book raises, comic books, and their careers:
PREVIEWS: How long have you been reading comic books? Did anything prompt you to start reading comics? Do you have any specific memories of buying and/or reading comic books as a child, or did you discover comics in high school or college?
RMD: I started reading comic books — in the form of graphic novels and trades — in college, just for fun. I really got into them during the Marvel Civil War event in 2007-2008. I was in law school at the time, and it seemed germane.
JED: I started reading comics around the age of 9 or 10 (i.e. 1991-92). Before that I was (and still am) a big fan of the Adam West Batman series. I think that TV series and the X-Men animated series are what got me interested in comics. I remember biking to a nearby comic book store with my older brother and buying X-Men, Batman, and Superman titles. I particularly remember the Death of Superman arc and the Knightfall arc, which came out about that time.
PREVIEWS: What inspired you to go into law?
RMD: I graduated from undergraduate with a philosophy and history degree. I considered medical school for a while, but law school had been something I'd been pretty set on since high school.
JED: My undergraduate degree is in computer science and mathematics, and I applied to both computer science graduate programs and law schools, with the intention of doing both and then practicing patent law. While I primarily work in academic research rather than private practice, my research focuses on patent law.
PREVIEWS: What brought you together with your co-writer (on the website and later the book)? What prompted you to say one day, "Hey, this comic book raises legal issues"? What led you to write about the legal issues raised in comics — and continue to write about the subject?
RMD: MetaFilter.com. Specifically, James posted a link to the blog on the "Projects" page. MetaFilter allows users to keep track of each other, and I make it a point to try to keep up with what the other lawyers are doing and saying on the site. So when he posted that link, I saw it right away. I was the first to comment, and my thoughts were (1) This is awesome, and do you want to collaborate (He said "Yes."), and (2) there is definitely a book deal in here somewhere. It just looked like an enormously fun project, and it continues to be so.
JED: The blog has its origins in a dinner conversation with my wife (who is also a lawyer) and two friends of ours. The conversation turned to comics and superheroes, particularly Superman and X-ray vision. I pointed out that if all Kryptonians had X-ray vision then either they would make their walls out of lead or they would have very different privacy laws. My friend Paul said I should write a blog about that kind of thing. I decided to put together a handful of posts and put it up on MetaFilter's Projects page. I was a bit nervous because MetaFilter is known for having fairly high standards, but it got a warm reception. After that it really took off, with coverage in online and traditional media. The press attention is nice, but what really encourages me to keep writing are our readers. We get fantastic questions, comments, and discussion, and they are all polite and thoughtful. I think it's a rare blog that has as good a comment section as we do.
(Note: I'm aware that in most continuities Kryptonians on Krypton do not have X-ray vision. This was a hypothetical situation not inspired by any particular comic book. We've gotten a ton of grief about this issue.)
PREVIEWS: What do you think is the biggest misconception about the law as portrayed in comic books that you've had to address in your website and book?
RMD: Let's put aside the normal artistic license we see in legal stories, i.e., litigation mostly happens in law offices and takes months and months rather than in courtrooms and lasting a few hours. Fictional works routinely gloss over that kind of stuff because it's excruciatingly boring for outside observers. With comic books specifically, it turns out that "fighting crime" as anyone but a police officer is enormously problematic. There are constitutional, criminal, and civil issues galore, and the few instances of "real-life superheroes" we've seen confirm our opinion that doing some of this stuff can really get you into trouble.
JED: That's a tough question. One that we've seen multiple times in different books is that grand jury proceedings are portrayed incorrectly. There's no judge; the prosecutor leads the proceeding. There's no public gallery; grand jury proceedings are secret and even the witnesses are only let in one at a time. The suspect (not yet technically the defendant) is not allowed to be present, nor is his or her attorney.
PREVIEWS: What do you consider to be the biggest legal issue that a comic book has gotten wrong?
RMD: The Marvel Civil War event was a disaster in more ways than one. They set out to explore the consequences of a fictional law without ever deciding what they actually wanted that law to say, much less whether it would work in real life. So the story winds up being an inconsistent mess.
JED: Civil War was pretty bad. Bucky Barnes being extradited to Russia is wrong on several levels: there is no US extradition treaty with Russia and the US Secretary of State has to agree to any extradition.
PREVIEWS: What have comic books surprisingly gotten right about the law?
RMD: The story about Superman becoming President (Action Comics Annual # 3, 1991) had a surprisingly clever argument for circumventing the "natural born citizen" requirement for the Presidency in U.S. Const. Art. II, sec. 1, cl. v.
PREVIEWS: Who is comic books' best lawyer?
RMD: She-Hulk.
JED: Toss-up between She-Hulk and Manhunter (Kate Spencer). Although, pre-Crisis Bruce Wayne had a degree from Yale Law, and as we all know, Batman never loses. So maybe it's actually Bruce Wayne, if he ever practiced law.
PREVIEWS: Which comic book character is your favorite?
RMD: I've been partial to Iron-Man/Tony Stark for quite a while.
JED: I'm really bad at picking favorites. Batman or She-Hulk.
PREVIEWS: If your readers come away with one just one thing from The Law of Superheroes, what should that be?
RMD: It is definitely possible to get the law right in comic book stories, it just takes a little effort. The fact that it works so well so frequently is a real testament to the writers.
JED: The law is easier to understand than you might think. I don't think we're going to put any lawyers out of a job, but we want people to come away with a basic understanding of how the law fits together.
PREVIEWS: What's next for James Daily and Ryan Davidson?
JED & RMD: We're currently exploring the possibility of writing a companion study guide for law school textbooks. We would also like to collaborate on a comic book aimed at educating people — particularly teenagers — about their rights.
---
Arriving in stores in October, The Law of Superheroes presents a unique and educational look at the world of comic books through the prism of the legal system. Legal issues that readers have long taken for granted, such as the way that Batman works with the police but outside of the law, are dissected and shown to work differently than they are portrayed in comics. The Law of Superheroes puts an unexpected spotlight on the worlds within the comic books, and comics fans with an interest in the real-world issues raised by comics will find Daily and Davidson's book to be an interesting and engaging read.