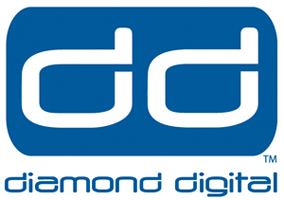 Diamond Digital is a unique initiative that lets your local comic book shop retailer sell digital comics and graphic novels directly to you. It's an easy way to purchase digital comics for your reading pleasure on the go and, at the same time, support your local comic book shop that brings you printed comics week in and week out!
Here's how it works:
1. Each week check out weekly release lists at PREVIEWSworld.com or diamonddigital.com to see what's available digitally in stores.
2. If you are in your comic book shop, tell your retailer that you'd like to purchase a digital comic book and he'll give you a download code.
3. If you are online, many retailers have digital comics available directly from their websites, so you can pay and download your digital copy at your own convenience.
4. Make sure you download the unique Digital Comics Reader app-- developed and powered by Digital comics powerhouse, iVerse Media. It's available for use on the web, Apple iPhone or for Android phones.
5. Plus, any purchases you make stays with you "in the iVerse Cloud" where you can download and use it on any device you'd like.
You can purchase a code fo a day-and-date digital editions of new comics every Wednesday when the print versions are available, usually at the same SRP as their print equivalents. You also can purchase a digital "Plus" edition code, which will typically be priced at $.99 when you purchase a print version of the same comic book. Codes can be redeemed at your retailers' website, or at www.digitalcomicsreader.com.
Plus, there are thousands of backlist comic book codes available from Diamond Digital as well! There are some of the best-selling series you'd want- Walking Dead, Ghostbusters, Atomic Robo, Chew and more- with complete runs for you to read digitally. To review a current, complete list of back issues available, down this back issue file.
NEW FROM DIAMOND DIGITAL THIS WEEK, 7/25/2012:
IDW

True Blood #3
MAY120429E, $3.99


IMAGE

Debris #1
MAY120516D, $3.99


TOP SHELF

Underwater Welder GN
JUN121298F, $3.99

PREMIER PUBLISHERS

ITEM CODE
DESCRIPTION
PRICE
IDW PUBLISHING
MAY120396E
GHOSTBUSTERS ONGOING #11
$3.99
MAY120424E
GODZILLA ONGOING #3
$3.99
JAN120432E
HAWKEN #5
$3.99
MAY120437E
SNAKE EYES & STORM SHADOW #15
$3.99
MAY120446E
TRIO #3
$3.99
MAY120429E
TRUE BLOOD ONGOING #3
$3.99
IMAGE COMICS
MAY120523D
BATULA HC
$16.99
MAY120516D
DEBRIS #1 (MR)
$3.99
JAN120583D
ELEPHANTMEN #41 (MR)
$3.99
MAY120550D
GATECRASHER TP VOL 01 RING OF FIRE
$12.99
OCT110545D
GRAVEYARD OF EMPIRES #4 (RES) (MR)
$2.99
MAY120609D
GRIM LEAPER #3 (MR)
$3.99
FEB120506D
HAUNT #25
$2.99
MAY120617D
MANHATTAN PROJECTS #5
$3.99
MAY120620D
NEAR DEATH #10
$2.99
MAY120623D
PROPHET #27
$2.99
MAY120629D
SUPER DINOSAUR #12
$2.99
MAY120530D
THE MONOLITH HC
$17.99
IMAGE COMICS/TOP COW PRODUCTIONS
APR120564D
WITCHBLADE #158 CVR A CHRISTOPHER
$2.99
COMICS & GRAPHIC NOVELS

ITEM CODE
DESCRIPTION
PRICE
ARCHIE COMIC PUBLICATIONS
MAY120841E
ARCHIE #635 REG CVR
$2.99
MAY120844E
ARCHIE & FRIENDS DOUBLE DIGEST #18
$3.99
MAY120848E
B & V FRIENDS DOUBLE DIGEST #227
$3.99
MAY120863E
STAN LEES MIGHTY 7 #3 REG CVR
$2.99
BOOM! STUDIOS
MAY120976E
HELLRAISER #16 (MR)
$3.99
MAY120945E
PLANET OF THE APES #16
$3.99
BROADSWORD COMICS
MAY120938F
TAROT WITCH OF THE BLACK ROSE #75 (MR)
$2.99
TOP SHELF PRODUCTIONS
JUN121298F
UNDERWATER WELDER GN
$9.99