Comics are making a difference. All you have to do is look at how well Marvel's The Avengers did at the box office to see how they're still making movie studios happy. And there seems to be no end to the sequels, which continually do well for Hollywood. Plus, comics are also keeping the folks at AMC happy, too. Television discovered with The Walking Dead just how many people will stay glued to their seats to watch zombies chase after their meals. It's the network's highest rated TV show. And, of course, there's the recent news of how quite a few titles have started turning over sales numbers in the triple digits. Promising news when you consider the economy.
Yes, despite reports of Wall Street still jittery, people have shown they're not cutting back on their love for comics, or comics culture. And because of that fact, at least the people in television and movie industries thank you, and will eagerly read your comments on social media.
But on my way to film interviews at this year's San Diego Comic Con I wanted to peel back another layer of the onion to show how comics fandom has, I believe, permeated our culture on levels we might not recognize, or discuss.
My son, for example, was mixing a "cut-up" fantasy trailer when he heard about the movers and shakers I'd be meeting at the show. He sent me the trailer by the time I hit the airport. Although he didn't know about most books being published today, he did "like" the vendors logos. And, surfing YouTube fan films, he wanted to mix the excitement with the "awesomeness" of the publishers.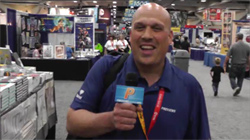 I discovered that the radio business thought comics were pretty cool, too. No sooner had I watched my kid's clip and boarded my flight along with our company President, Steve Geppi, I found out from the people in seats next to me that Sirius XM Satellite Radio was going to broadcast up to 15 minute clips from various panels during the length of the convention. The guy in the seat next to me confessed he was the man behind the curtain. And, like me, wondered when he would ever get the chance to eat.
Then a last minute press release I got enlightened me that while novelists like Greg Rucka and Stephen King have been jumping into the comics arena over the past decade, so had a soap opera star. General Hospital star Michael Easton was going to launch Blackwatch Comics at the show, and would be selling his Soul Stealer collected edition.
Also arranged at the last minute was an exclusive interview with Travis Langley, whose non-fiction book Batman and Psychology: A Dark and Stormy Knight would be featured at the show, where he would also attend panels and possibly speculate that Bruce Wayne could suffer from Post Traumatic Stress Disorder. The Dark Knight Rises Executive Producer Michael Uslan wrote the Foreword for the book. Comics legend Dennis O'Neil wrote the Introduction. From what I've learned, the book was already gearing up for a second printing.
An email on Friday informed me that social network site deviantART was going to court us around Artist Alley (which they sponsor) to introduce us to various new talent. They were also going to show us around their Cosplay event, which, I was happy to hear, was something they used as a springboard to keep tabs on folks who can regularly don their costumes. But not for other conventions, mind you. They sent cosplayers out to interact with young burn victims as therapy.
This last bit of "hey-guess-what-you're-doing-when-you-get-out-there" inspired me even more to keep thinking about what new paths we could walk on the convention floor this year. I felt like it was time to take the road less traveled. So, before I left the office, the last post I put on our Facebook page linked to a story that detailed how actor Ron Perlman dressed up in costume and face paint so that the Make Your Wish Foundation could help some little boy meet Hellboy in person.
Last time I checked, the post went viral.
A feel-good story being shared like crazy.
See? Comics can make a difference.
I'm very excited about this trip.