Even though it's July, we're already planning ahead for this year's Halloween festivities, with plenty of Halloween-themed items offered in July's catalog and the kickoff of Halloween ComicFest in comic shops. But let's not forget--it is July after all, and in America, we celebrate our "Independence Day" this Wednesday, July 4th.
But how do we possibly celebrate both our nation's Independence and Halloween simultaneously?! How about a look at Captain America covers where the Star-Spangled Avenger battles ghoulies, ghosties, and the forces of the supernatural!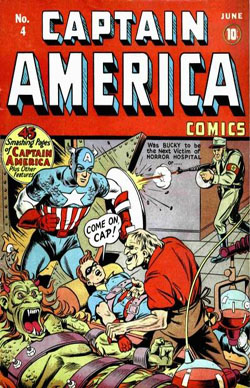 CAPTAIN AMERICA COMICS #4
(JUNE 1941)
Mental institutions have the public image of
being scary, and this issue doesn't really do
anything to change the perception...!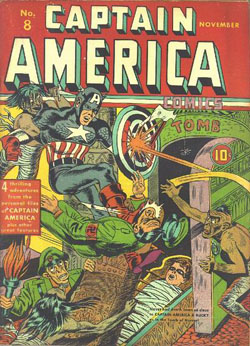 CAPTAIN AMERICA COMICS #8
(NOVEMBER 1941)

You'd think the Sentinel of Liberty had enough
on his plate during WWII, having to deal with
Nazis and all. Apparently, the U.S. government
didn't think so when they sent Cap to deal with
an evil Pharaoh bent on taking over the world
with his army of mummies. Mummies!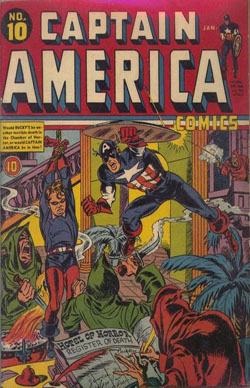 CAPTAIN AMERICA COMICS #10
(JANUARY 1942)

You know, for a "Hotel of Horror", this place
doesn't look so bad. At least it's clean.
Clear out the cultists, and the only person
who might flinch is an interior designer...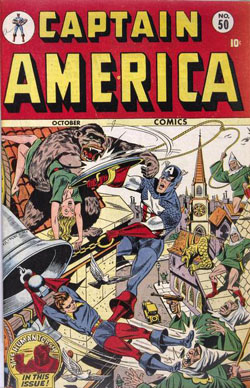 CAPTAIN AMERICA COMICS #50
(OCTOBER 1945)

WWII has come to an end with the Allies
victorious. What does the Star-Spangled Avenger
do when the war is over? Apparently, he fights a
gorilla.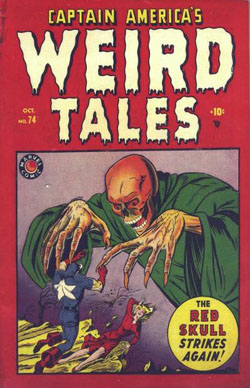 CAPTAIN AMERICA'S WEIRD TALES #74
(OCTOBER 1949)

If the previous issues on this list are any
indication, Cap's adventures were weird waaay
before the series changed its title in this
issue...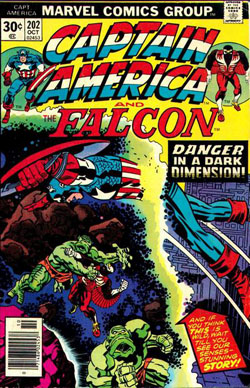 CAPTAIN AMERICA #202
(OCTOBER 1976)

If only Captain America could have dealt with
these guys with a handful of Reese's Pieces and a
quick bicycle ride on Halloween night...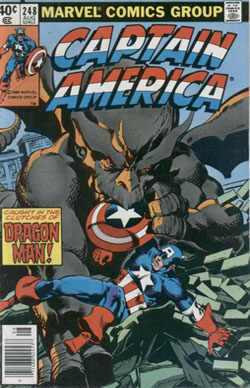 CAPTAIN AMERICA #248
(AUGUST 1980)

This cover makes us wonder how Cap's shield
tastes. We're assuming that Adamantium
makes it deeeeelicious.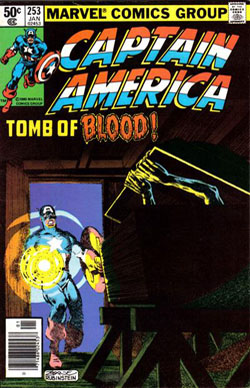 CAPTAIN AMERICA #253
(JANUARY 1981)

This cover does a good job blending the two most
important elements of pre-Brubaker Captain America:
Mystery and Horror.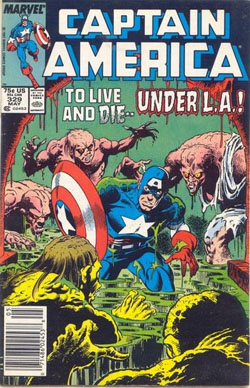 CAPTAIN AMERICA #329
(MAY 1987)

The Sentinel of Liberty takes on a group of
C.H.U.D.'s as he learns how bad L.A.'s pollution
problem really is.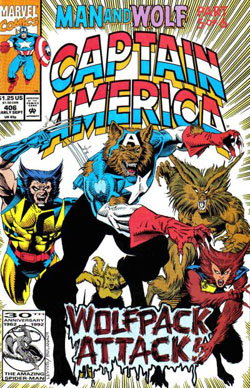 CAPTAIN AMERICA #406
(SEPTEMBER 1992)

You know things are weird when Wolverine
is the least hairy character in your comic book!